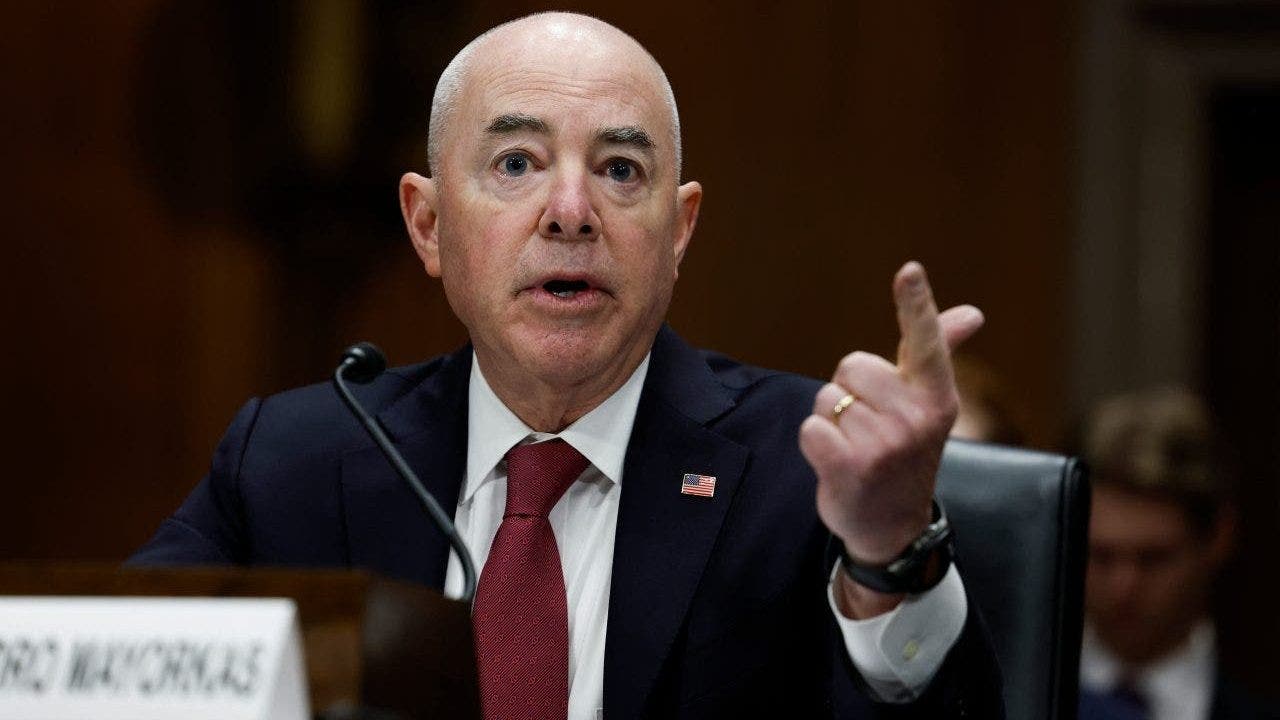 Homeland Security Secretary Alejandro Mayorkas distanced himself from the border crisis Sunday, saying the country's immigration system has been broken 'since the '90s' and it's ultimately up to Congress to fix it.
During an appearance on CBS News' 'Face the Nation,' Mayorkas dismissed a bipartisan bill introduced last week by Sen. Thom Tillis, R-N.C., and Sen. Kyrsten Sinema, I-Ariz., that would allow the U.S. to expel migrants for two years after Title 42 ends this week.
'There's a very important message, not to communicate only to Sen. Sinema but to all senators and all members of the House of Representatives: We need immigration reform,' he said. 'Everything that the Department of Homeland Security is doing, everything that our partners across the federal government are doing is within a broken immigration system. The president passed to Congress a proposal to fix our broken immigration system on the first day in office.'
CBS anchor Margaret Brennan pushed back, saying it doesn't appear the Democrats have made the border a priority.
'But that's like a to-do list,' she said. 'That's different than putting your shoulder behind it, picking up the phone and saying, 'Excuse me, Democrats control the Senate, let's be out front on immigration.'
'Margaret,' Mayorkas responded, 'we have been pushing for immigration legislation since day one. And by the way, it didn't start on day one – this is a decades-long problem. The immigration system hasn't been fixed since the '90s.'
'Absolutely, and it has only seemingly gotten worse with the set of circumstances we're in now,' Brennan retorted.
Mayorkas argued that the bill by Sens. Sinema and Tillis doesn't fix the problem.
'What I would say to the senators, Sens. Tillis and Sinema, what we need is our system fixed, not this Band-Aid solution,' he said.
Title 42, a public health order that was implemented in March 2020 in response to the COVID-19 pandemic, will expire on Thursday, sparking concerns that the U.S. is unprepared for a renewed surge in illegal immigration.
'The border is not open,' Mayorkas said Friday in Brownsville, Texas, alongside Border Patrol Chief Raul Ortiz. 'It has not been open, and it will not be open subsequent to May 11. And the smugglers who exploit vulnerable migrants are spreading misinformation. They are spreading false information, lies in a way to lure vulnerable people to the southern border and those individuals will only be returned.'
This post appeared first on FOX NEWS