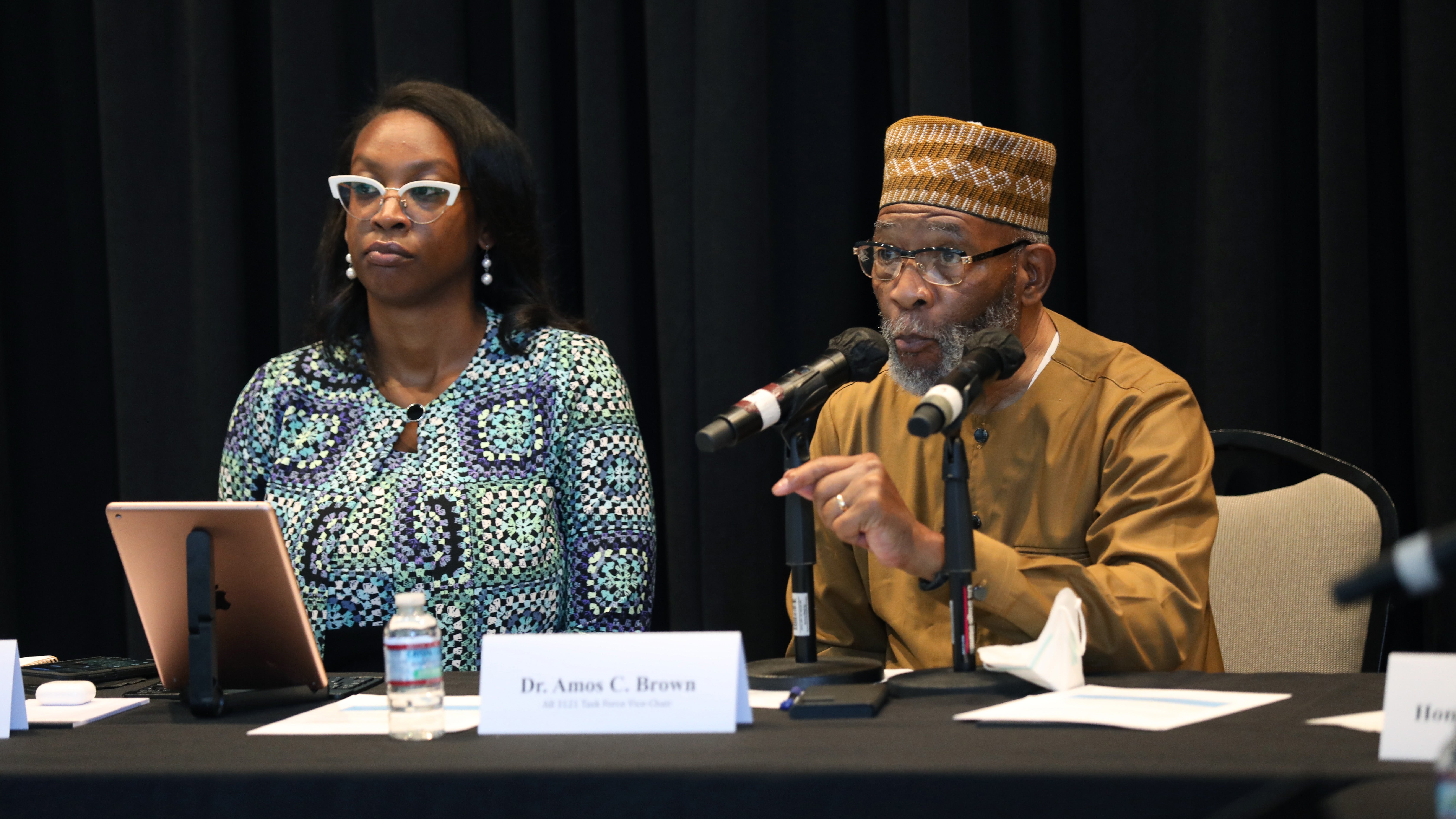 California's reparations task force is calling on the state legislature to mandate 'anti-bias training' and an assessment based on that training as graduate requirements for medical school across the Golden State.
The task force, which was created by state legislation signed by Gov. Gavin Newsom in 2020, formally approved over the weekend its final recommendations to the California Legislature, which will then decide whether to implement the measures and send them to the governor's desk to be signed into law.
Much of the public's attention has been focused on the price tag of the proposed reparations: up to $1.2 million for qualifying Black Californians as initial 'down payments' while they wait for the purported full amount of money loss due to slavery and subsequent racism to be calculated.
Economists predicted in a preliminary estimate in March that California's reparations plan could cost the cash-strapped state more than $800 billion. The task force said at the time that the total didn't include compensation for property deemed to be taken unjustly or for the devaluation of Black-owned businesses.
However, several aspects of the committee's recommendations have received little attention, including its proposals regarding health care.
One of the more striking health-related proposals is to mandate anti-bias training in order for medical professionals in California who study at state-funded programs to graduate.
'To address discrimination against African Americans in health care, the task force recommends the legislature add the completion of an evidence-based anti-bias training and an assessment based on such training to the graduation requirements of all medical schools and any other medical care provider programs in California receiving state funding and not already covered, including mental health professional programs (psychologists, Ph.D, or Psy.D), masters-level programs in psychology or therapy (for counselors, clinicians, and therapists), and programs for clinical social workers,' the committee states in its proposal.
The reparations plan also calls for similar training and testing to be 'graduation requirements of all dental schools in California receiving state funding' and 'requirements for licensure by the Dental Board of California for licensed dentists and registered dental assistants.'
Meanwhile, the task force is pushing another controversial measure that could face backlash in the legislature: a universal, single-payer health care system as a way to achieve health 'equity' for Black residents.
'The task force recommends closing the health coverage gaps through the adoption of a comprehensive universal single-payer health care coverage and health care cost control system for the benefit of all African Americans in Californian, with a special consideration for those who are descendants of persons enslaved in the United States,' the panel's final draft report states.
It's unclear whether the task force is recommending the legislature create a government-run health care system that would extend coverage only to California's Black residents or to everyone in the state. The task force didn't respond to a request for comment for this story.
Either way, California lawmakers have previously tried and failed to implement a universal health program. The state currently operates Medi-Cal, its own Medicaid program meant to provide health coverage to people with low incomes and limited ability to pay for their own health care. According to the task force, the state should put more money into the program to 'achieve parity' with private health insurers.
'For the many African Americans in Californian who remain on Medi-Cal, the task force also recommends increases to the Medi-Cal reimbursement rates to achieve parity with the reimbursement rates of private insurance,' the report says.
Such measures, according to the task force, are among those required for the state of California to make amends for slavery and broader anti-Black racism and discrimination.
'Due to discrimination, disempowerment, and neglect of African American patients by health care institutions, African American communities have suffered major gaps in health care delivery,' the task force writes. 'The impact can be seen across in virtually every aspect of physical and mental health outcomes.'
California never allowed slavery in its history, but critics argue the state still worked to uphold the institution and discriminated in other ways against Black Americans.
The reparations committee argues health disparities between White and Black Americans is connected to the latter suffering from 'constant stress from chronic exposure to social and economic disadvantage, which leads to accelerated decline in physical health,' adding unequal health outcomes "cannot be explained away by factors like age, income, or education level' — through implicit biases and racism, the health care system treats Black Californians differently.'
To address what the task force describes as systemic racism, the panel recommends the legislature authorize and provide ongoing funding to a 'California Health Equity and Racial Justice Fund' within the California Health Department's Office of Health Equity, which already exists.
Under the task force's plan, the Office of Health Equity would administer an annual $115 milliongrant program 'to address health disparities, focusing on social determinants of health.'
The reparations committee's final recommendations include dozens of additional measures concerning mental and physical health. One such proposal calls for the Office of Health Equity to conduct an annual review of California health care laws and policies and to include how to 'design and implement consequences for health care providers who do not address and reduce identified treatment disparities.'
The report notes this recommendation builds on a California Senate resolution from 2021 that stated, 'The legislature declares racism to be a public health crisis and will actively participate in the dismantling of racism.'
A California state bill introduced in 2020 would have declared racism a public health crisis and established the state's first Racial Equity Commission. The bill did not pass, but Newsom went on to create a Racial Equity Commission in September 2022 by executive order.
This post appeared first on FOX NEWS