SPX Monitoring Purposes: Long SPX on 2/6/23 at 4110.98.
Monitoring Purposes GOLD: Long GDX on 10/9/20 at 40.78.
Long Term SPX Monitor Purposes: Neutral.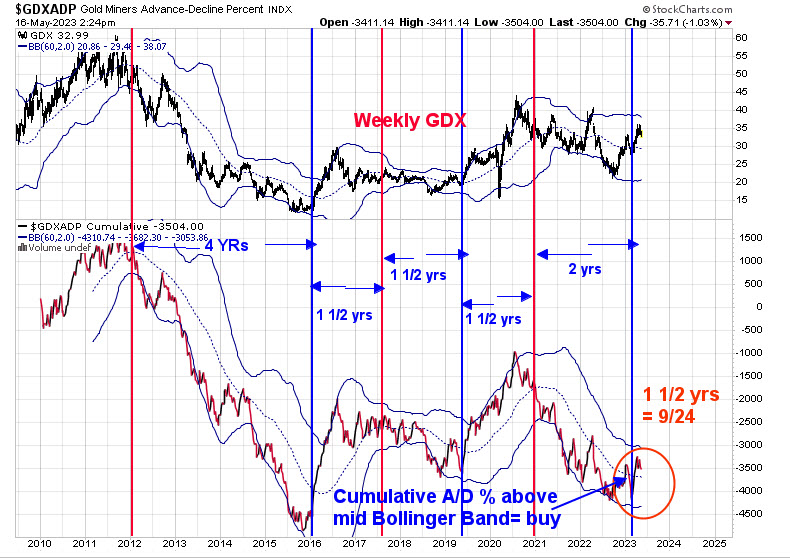 The bottom window is the weekly cumulative GDX Advance/Decline percent. This indicator looks at the bigger picture. A buy signal is present when this indicator is above its weekly mid-Bollinger Band, and a sell signal is present when its below its mid-Bollinger Band. Signals in the past have lasted from 1 ½ years to 4 years (note on chart). The current signal was triggered earlier this year. The shortest duration of a signal was 1 ½ years and, if we add that time to the current signal, then expect a sell signal some time in September 2024. As long as this indicator remains above its mid-Bollinger Band, this buy signal will remain in force.
Tim Ord,
Editor
www.ord-oracle.com. Book release "The Secret Science of Price and Volume" by Timothy Ord, buy at www.Amazon.com.
---
Signals are provided as general information only and are not investment recommendations. You are responsible for your own investment decisions. Past performance does not guarantee future performance. Opinions are based on historical research and data believed reliable; there is no guarantee results will be profitable. Not responsible for errors or omissions. I may invest in the vehicles mentioned above.