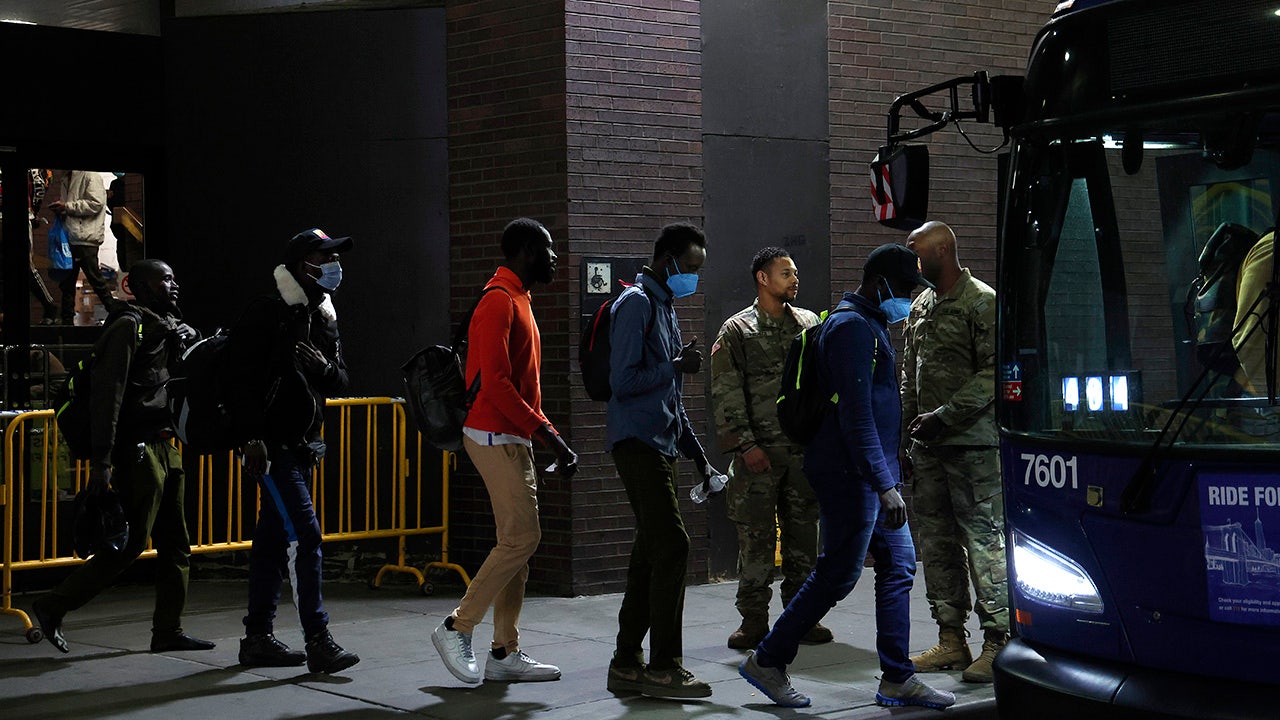 House Republicans representing New York are taking aim at state Democrats and the Biden administration over the Empire State's migrant surge — as migrants have been housed in school gyms and as the Democratic leaders are also attempting to put pressure on Republicans over the crisis.
'It is absolutely unacceptable that Governor Kathy Hochul, Mayor Eric Adams, and President Joe Biden are sacrificing America's children's safety and happiness to prioritize the needs of illegals,' Rep. Elise Stefanik, R-NY, told Fox News Digital. 'This is why Republicans passed the strongest border security package in our nation's history.'
New York City has been dealing with a massive migrant crisis for over a year as migrants have flooded into the city, including those who have been assisted with transports from Texas.
The issue hit the headlines again this week when it was revealed that the Big Apple has started housing migrants in public school gyms, sparking anger and protests. Mayor Eric Adams said the move was 'drastic' but said the city is out of options. The city has also caused controversy by busing hundreds of migrants to Rockland County and Orange County. There have also been reports of homeless veterans being booted from hotels to make room for the influx in upstate New York.
'We are carrying this entire burden. This national problem is being laid in the lap of New Yorkers,' Adams told Fox 5 New York on Tuesday.
Meanwhile, New York Gov. Kathy Hochul said in an interview with Spectrum News that the state is 'helping [Adams] find places that will be welcoming.'
'I want to make sure the Democrats, Republicans, everyone understands the challenges we're facing right now,' the governor added.
Hochul also addressed the Republican majority in Congress during the interview, asking them to pledge $1 billion to help the city as well as allowing illegal immigrants to work.
NYC FACES IRE OF RESIDENTS OVER PLAN TO HOUSE MIGRANTS IN BROOKLYN ELEMENTARY SCHOOL GYM
'Republicans in Congress, in charge of the House, have the ability to allocate more money. Why don't you match what New York state did? Give us a billion dollars for New York,' she said. 'Help us with the money, help us with the work authorization. And then we'll get through this much sooner.'
It echoes calls from the Biden administration, who have accused Republicans of failing to provide funding for additional border measures — while also calling on Congress to pass an immigration reform bill, which includes an amnesty for illegal immigrants already in the U.S.
'The fundamental reason why we have a challenge at our border, and we've had this challenge many a time before is because we are working within the constraints of a broken — a fundamentally broken immigration system. And we also are operating on resources that are far less than those that we need and that we've requested,' DHS Secretary Alejandro Mayorkas said last week
But Republicans have accused the Biden administration of fueling the crisis with its policies — including the ending of Trump-era border measures and the reduction of interior enforcement. In New York, Republicans have attributed the crisis in part to 'sanctuary' policies put into place at the city and state level.
'The unmitigated disaster New York is now experiencing is a direct result of President Joe Biden's open border agenda and Governor Kathy Hochul's policies, which have made New York a magnet for illegal immigrants,' Rep. Claudia Tenney, R-NY, told Fox in a statement. 'It is outrageous that she now wants the American people to subsidize New York's failed sanctuary city policies. New York City's 'right-to-shelter' policy, in particular, was never intended to be applied in this context. Upstate New York counties that stand for the rule of law should not be forced to pay the price for those that have embraced dangerous and illegal sanctuary city policies.'
'We are a compassionate nation, one with rules and laws that no one is above,' Rep. Nick LaLota, R-NY, a member of the House Homeland Security Committee, said in a statement. 'Those who entered the country illegally, or who are manipulating our asylum laws, should not displace law-abiding taxpayers from their government services. Veterans, the homeless, the mentally impaired, and other Americans in need deserve better.'
Rep. Marc Molinaro, R-NY, called on Hochul to push President Biden to adopt 'stronger border security measures' to address the cause of the crisis.
'We are facing a crisis that impacts communities represented by Democrats and Republicans,' he said. Our solution must be bipartisan. I urge Gov. Hochul to work with leaders at all levels of government and across party lines on this issue.'
Meanwhile, there were also further signs of discord between Democrats on the issue. Mayor Eric Adams was asked Tuesday by a news anchor: 'Where the heck is the president of the United States.'
'That's a good question,' Adams said. 'I think we all should be asking why this is happening to a city that was turning itself around and will continue to do so. This should not be happening to New York City, Chicago, Los Angeles and the other big northern cities.'
'And really, it should not be happening to El Paso or Brownsville, Texas. No city should be carrying this burden. This is a national problem, and it needs a national solution,' the mayor said.
Fox News' Aubrie Spady, Jeffrey Clark, Danielle Wallace and The Associated Press contributed to this report.
This post appeared first on FOX NEWS