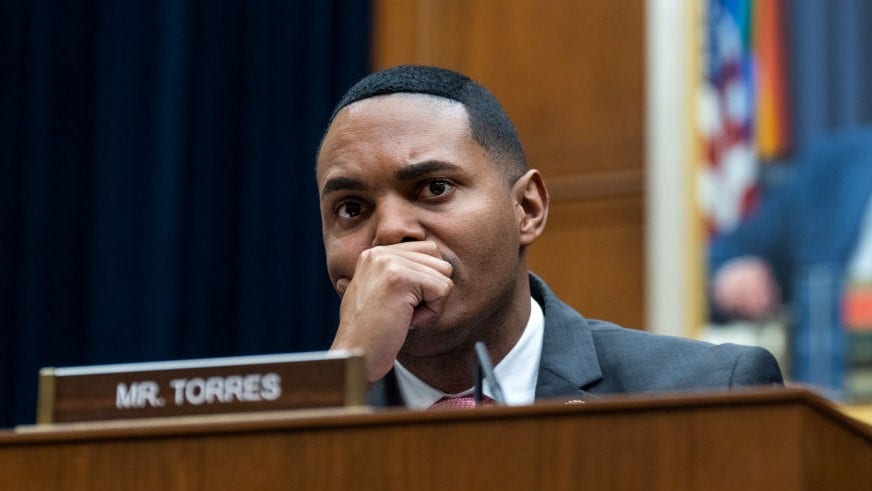 A new bill introduced in the House of Representatives on Monday is aimed at making sure American consumers know the difference between fantasy and reality online by cracking down on generative artificial intelligence technology.
Rep. Ritchie Torres, D-N.Y., is leading the effort on the AI Disclosure Act of 2023, which would force AI-generated content to include the disclaimer, 'Disclaimer: this output has been generated by artificial intelligence.'
In a statement announcing the bill, Torres predicted that 'regulatory framework for managing the existential risks of AI will be one of the central challenges confronting Congress in the years and decades to come.'
He noted risks in going too far with policing AI as well as not regulating it enough.
'The simplest place to start is disclosure. All generative AI – whether the content it generates is text or images, video or audio – should be required to disclose itself as AI,' Torres said. 'Disclosure is by no means a magic bullet but it's a commonsense starting point to what will surely be a long road to regulation.'
His bill, if passed, would give the Federal Trade Commission oversight over the new rule.
And there appears to be an appetite on both sides of the aisle for promoting transparency in AI content.
Rep. Nancy Mace, R-S.C., one of the GOP's leading voices on AI in the House, said Torres bill was not the 'best solution' but agreed that Americans need to be informed if the content they are viewing, particularly as the 2024 presidential cycle heats up, is real or fake.
'AI has the ability to revolutionize the way we live and can be a valuable tool in our arsenal for national security. However, as we continue to witness the rapid advancements in artificial intelligence, it is crucial that we prioritize transparency and accountability,' Mace told Fox News Digital.'
'The American people deserve to know when they are interacting with AI-generated content, especially in politics where there is an easy ability to manufacture content which can be used to mislead people,' she added.
'While this particular bill may not be the best solution, by requiring a disclaimer for AI content, we empower users to make informed decisions about the information they consume.'
AI generated content has already had a test-run in the current election season. Former President Donald Trump shared an AI-made video parodying Florida Gov. Ron DeSantis' 2024 announcement on Twitter Spaces.
Rather than the thousands of listeners who tuned in to hear DeSantis speak, Trump's video included DeSantis with guests Dick Cheney, Adolph Hitler, the FBI, George Soros and others.
And just last month, an AI-made image depicting the Pentagon suffering an explosion went viral on the internet and even appeared to cause a brief dip in the stock market.
This post appeared first on FOX NEWS