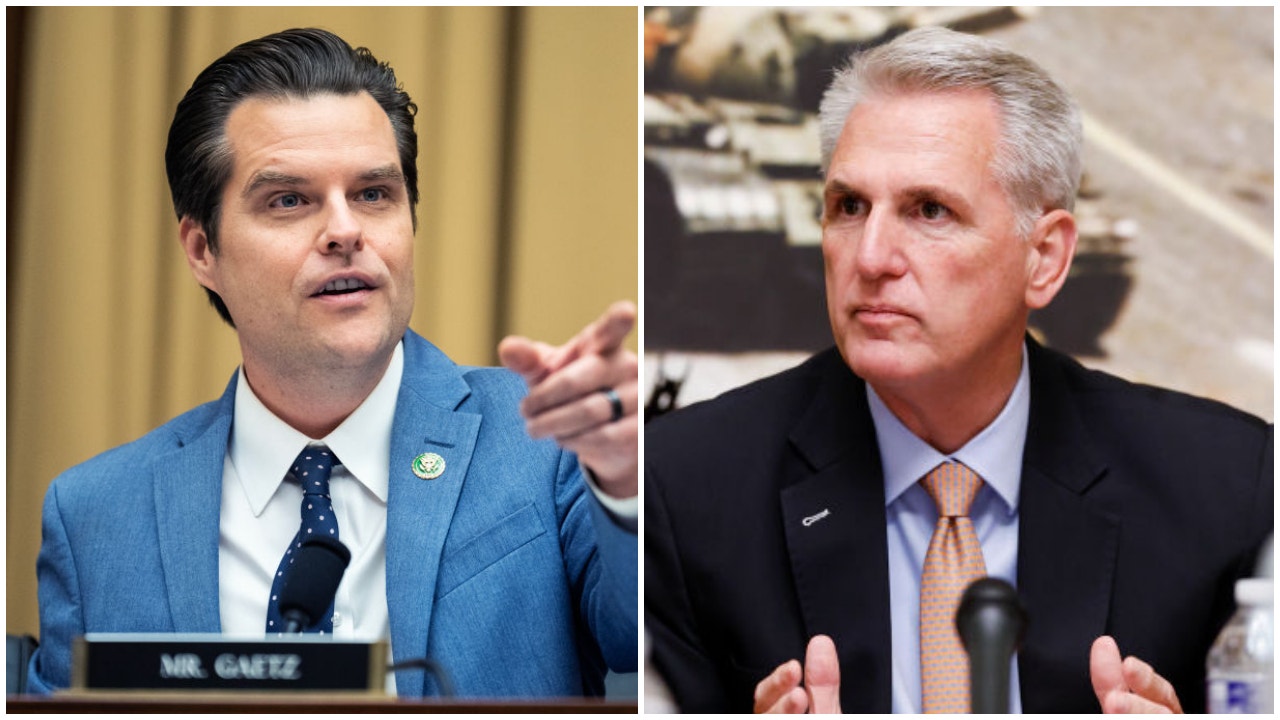 EXCLUSIVE: Rep. Matt Gaetz, R-Fla., suggested Speaker Kevin McCarthy needed to demonstrate his loyalty to House conservatives on Wednesday, after he and a group of House Freedom Caucus members derailed a procedural vote on a GOP-backed bill on gas stove access.
'Kevin can't choose House conservatives as his coalition partner on things that are messaging bills and facial in nature, and then choose to keep [House Minority Leader Hakeem Jeffries] as his coalition partner on consequential $4 trillion decisions,' Gaetz told Fox News Digital in reference to the debt limit vote.
'He's got to be forced into monogamy with us as his coalition partner or Hakeem. And if Hakeem is his coalition partner, then we're not going to play out the failure theater on stuff like we saw put on the floor this week.'
Eleven hardline Republicans banded together to tank a procedural measure, known as a vote on rules, that was meant to precede a GOP bill cementing Americans' access to gas stoves. It was the first time a rules vote has failed in two decades.
Members of the conservative House Freedom Caucus and their allies have signaled they will blockade further action on the chamber floor over anger at McCarthy for how he handled the debt limit deal struck between him and President Biden over Memorial Day weekend, which passed along bipartisan lines in both the House and Senate. Many have claimed the GOP got 'rolled' on the compromise, pointing out that more Democrats than Republicans had voted for it in both chambers.
The rebels also accused GOP leadership of exacting revenge against Clyde for his and others' attempt to block the debt limit bill from coming to a vote in the House last week by stymieing legislation introduced by Clyde to roll back a Biden administration gun control provision.
A GOP lawmaker told Fox News Digital that members of the dissenting group would be meeting with McCarthy later 'in order to understand if he will understand how to put Humpty Dumpty back together again.'
'We have an agreement with the Speaker. And I think that revisiting that agreement, and having an audit of compliance with that agreement, is the work ahead,' the lawmaker said.
House Freedom Caucus member Rep. Ken Buck, R-Colo., told Fox News Digital on Wednesday, 'I think it will stay at a standstill until there's trust that has been reestablished.'
Buck said of the kind of guarantees members would need, 'I don't need commitments in writing. We've had those and they've been broken. And so I think that it's more important that we actually see the plan implemented.'
He called for a time limit in the Senate to consider House-passed appropriations bills, and if the upper chamber fails to advance them in that time, that 'the House doesn't take up any Senate legislation at all.' Buck also called for 'personnel changes' on the Rules Committee and others, but did not elaborate on who.
'A lot of this could have been avoided had the Rules Committee agreed to a few amendments that members wanted. Even if the amendments didn't pass, it still would have been appropriate to have members be able to amend a bill as significant as a debt ceiling bill,' Buck said.
Conservatives have accused McCarthy of violating the terms of an agreement made to secure their support during the speakership vote earlier this year.
'We're having to grapple with the fact that the agreement that allowed Kevin McCarthy to be speaker was violated,' Gaetz said. 'So now, we have to recreate the power-sharing infrastructure of the House of Representatives.'
He continued, 'Right now, you know, we see Hakeem Jeffries as the more consequential coalition partner in Kevin's eyes, and we don't want that to be true. We want Kevin to be our speaker, not Hakeem's speaker.'
Among those 'broken promises' made by McCarthy in January, Buck said, was a failure to tackle unauthorized spending – which he has said made up a large share of discretionary spending.
'They've been telling me that they have been trying to do things for several months now, and that the chairmen are not holding the hearings and getting things done. And they're hoping to be able to move the chairs of the different committees,' Buck said.
Both conservatives appeared to distance themselves from the idea of calling for a 'motion to vacate the chair,' which under the current terms allows just one House member to trigger a vote to take away McCarthy's gavel. The idea had been floated by some hardliners in the conference last week amid the debt limit bill fallout.
'Certainly, there are groups that are meeting and talking about that at this point,' Buck said, though he added, 'We don't have any plans to introduce the motion to vacate anytime soon.'
Gaetz said, 'I'm not looking to vacate and I'm not looking to placate.' Asked to elaborate, he answered, 'I think those words speak for themselves.'
This post appeared first on FOX NEWS