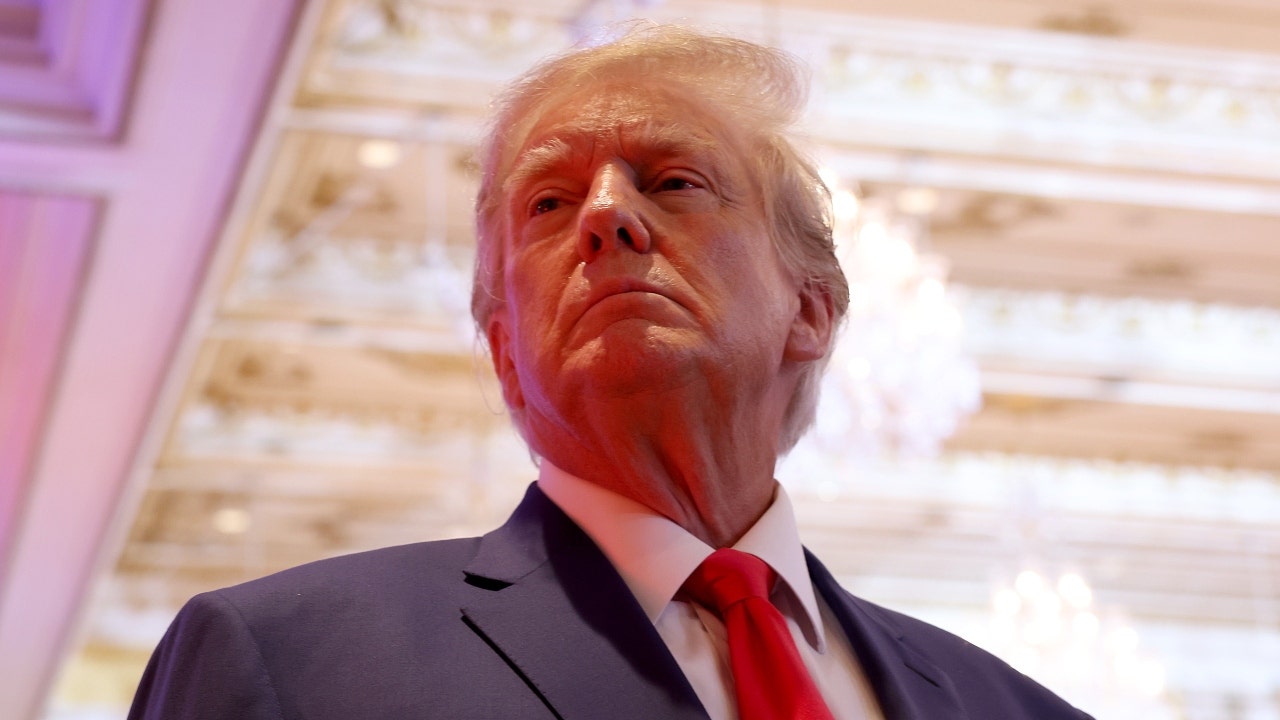 Former President Trump is expected to appear in federal court in Miami on Tuesday afternoon, after being indicted on 37 federal counts stemming from Special Counsel Jack Smith's investigation into his alleged improper retention of classified records at Mar-a-Lago.
The charges include willful retention of national defense information, conspiracy to obstruct justice and false statements, according to an unsealed copy of the indictment obtained by Fox News last week.
Trump, the current front-runner in the 2024 Republican presidential primary, in an exclusive interview with Fox News Digital last week, said he will plead not guilty to the charges.
Trump is expected to appear at the federal courthouse in Miami, Florida, on Tuesday at 3 p.m.
Last week, just a day after he was indicted, Trump and two of his top attorneys representing him in Smith's investigation parted ways. Jim Trusty and John Rowley resigned Friday.
Trump is now expected to be represented by Todd Blanche. The former partner at Cadwalader, Wickersham & Taft, is also Trump's defense attorney in the case brought against the former president by Manhattan District Attorney Alvin Bragg.
Smith, who was appointed by Attorney General Merrick Garland in November, pointed to the 'gravity' of the charges against the former president.
The indictment, filed in the U.S. District Court for the Southern District of Florida, alleges that any 'unauthorized disclosure' of the classified documents Trump held at his private residence at Mar-a-Lago 'could put at risk the national security of the United States, foreign relations, the safety of the United States military, and human sources and the continued viability of sensitive intelligence collection methods.'
The special counsel claims that Trump showed classified documents to others in 2021 — once in July 2021 at Trump National Golf Club in Bedminster, New Jersey, and once in August or September 2021.
The FBI, in March 2022, opened a criminal investigation into the unlawful retention of classified documents at Mar-a-Lago. The federal grand jury investigation began in April 2022.
'The grand jury issued a subpoena requiring Trump to turn over all documents with classification markings,' the indictment states, but alleges that Trump 'endeavored to obstruct the FBI and grand jury investigations and conceal his continued retention of classified documents' by suggesting that his attorney 'falsely represent to the FBI and grand jury' that he 'did not have documents called for by the grand jury subpoena.'
The indictment says Trump also suggested his attorney 'hide or destroy documents called for by the grand jury subpoena' and directed his aide — defendant Waltine Nauta — to 'move boxes of documents called for by the grand jury subpoena, while claiming that he was cooperating fully.'
The indictment names Nauta, who served as a White House valet and later a personal aide, as Trump's 'co-conspirator.' Nauta was indicted on six federal counts.
Smith says Trump retained classified information originating from the CIA, the Pentagon, the National Security Agency, the National Geospatial Intelligence Agency, the National Reconnaissance Office, the Energy Department, the State Department and Bureau of Intelligence and Research.
During the FBI's unprecedented raid of Mar-a-Lago in August 2022, the FBI seized 102 documents with classification markings in Trump's office and storage room.
In Trump's office, the indictment states there were 27 classified documents — six marked as top secret, 18 marked as secret, and three marked as confidential. In the storage room, 75 classified documents were found — 11 marked as top secret, 36 marked as secret, and 28 marked as confidential.
Trump is charged with 31 counts of willful retention of national defense information —including documents concerning White House intelligence briefings related to various foreign countries; documents concerning military capabilities of a foreign country and the U.S. with handwritten annotation in black marker; a June 2020 document concerning nuclear capabilities of a foreign country; an Oct. 21, 2018, document concerning communications with a leader of a foreign country; an undated document concerning military contingency planning of the U.S.; a document from December 2019 concerning foreign country support of terrorist acts against U.S. interests; an undated document concerning nuclear weaponry of the U.S.; an undated document concerning the timeline and details of an attack in a foreign country; and more.
Trump is also charged with conspiracy to obstruct justice. The indictment says the 'purpose' of the conspiracy was for Trump 'to keep classified documents he had taken with him from the White House and to hide and conceal them from a federal grand jury.'
Trump and Nauta were both charged with two counts of withholding document or record, and one count of concealing a document in a federal investigation.
Trump and Nauta were also charged with one count of 'scheme to conceal.'
Trump was also charged with making a false statement in June 2022 when he said a 'diligent search' of Mar-a-Lago was conducted; the search was conducted 'after receipt of the subpoena;' and 'any and all responsible documents accompany this certification.'
'In fact, after June 3, 2022, more than 100 documents with classification markings remained at The Mar-a-Lago Club until the FBI search on August 8, 2022,' the indictment states.
Trump, in an exclusive interview with Fox News Digital last week, said his federal indictment is 'election interference at the highest level.'
'This is the most corrupt administration in history — there has never been an administration so corrupt, and they're just starting to find it right now,' Trump told Fox News Digital. 'They are trying to deflect all of their dishonesty by bringing this ridiculous boxes hoax case.'
He added: 'They're not going to get away with it.'
'I did absolutely nothing wrong,' Trump said, citing the Presidential Records Act, saying it 'makes me totally innocent.'
This post appeared first on FOX NEWS