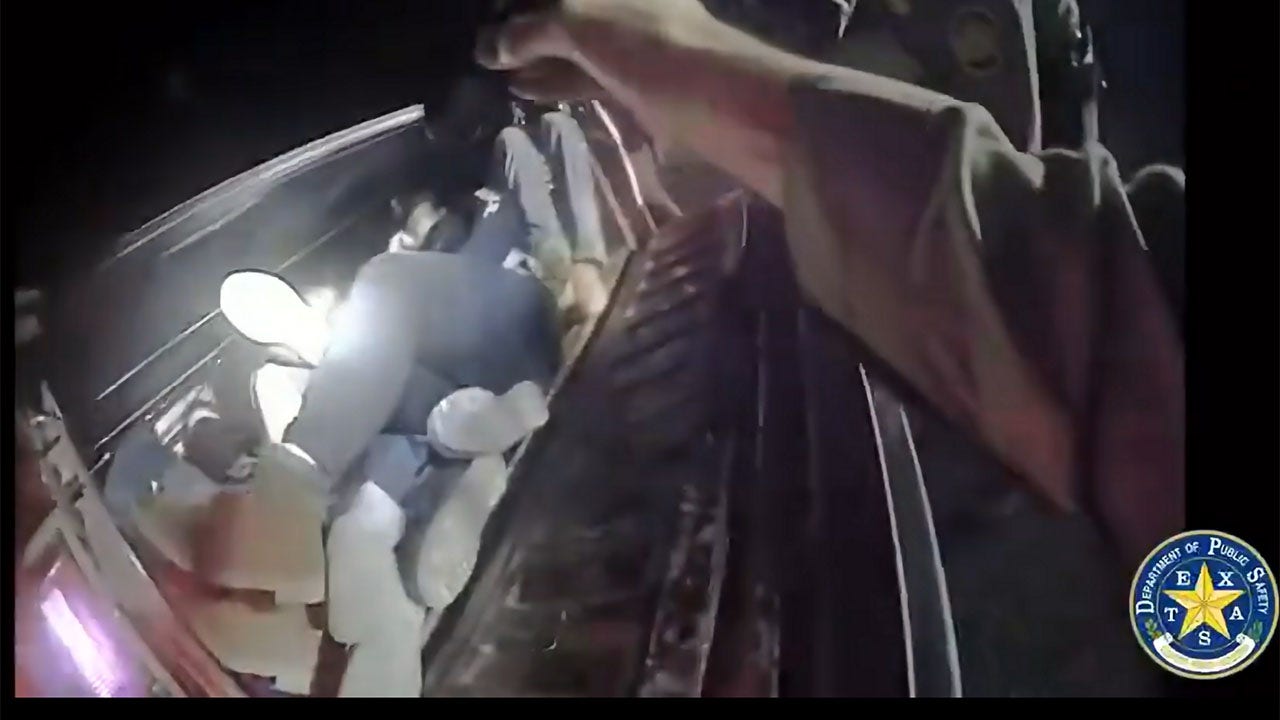 Texas troopers busted a border smuggling operation this week as they stopped a Mexican illegal immigrant who was smuggling a dozen illegal immigrants — including two children — while both in possession of a handgun and cocaine.
Texas' Department of Public Safety announced that a trooper stopped a Ford Pickup in Uvalde County on US-90.
Video of the incident shows the trooper interviewing the suspect through his window. He asks him for his license and insurance. The driver responds: 'I lost it.' He then asks for his ID, at which point he says he lost that too.
As he checked the vehicle, he spotted four illegal immigrants hiding in the rear seat area of the truck. He subsequently found that the driver — himself an illegal immigrant — was smuggling 12 illegal immigrants in the vehicle.
Video shows multiple troopers opening the cargo bed and finding it packed with illegal immigrants who were stuffed into the tight space. Texas DPS said two children were among the illegal immigrants found in the bed.
'Oh s—t,' one trooper exclaims as he sees the cargo. 'It's full.'
A search of the vehicle subsequently found a .380 handgun and cocaine. The driver – Sergio Sanchez-Zuniga — will be charged with smuggling, drug possession and unlawful carrying of a weapon, authorities said. The illegal immigrants, who were on their way to San Antonio, were turned over to Border Patrol.
DPS spokesman Chris Olivarez said that the agency has rescued over 900 children from smuggling operations.
The arrest is a glimpse into the ongoing smuggling operations at the border, including of both accompanied and unaccompanied children. Migrant numbers have dropped at the border since the historic highs seen before the end of Title 42 at the beginning of May, but officials have cautioned against believing it will stay that way. However, both Border Patrol and Texas authorities remain vigilant at the border amid continued smuggling of humans and contraband.
Texas this week announced that it arrested an MS-13 gang member on a transnational criminal watchlist who had previously been deported.
Earlier this week, a migrant smuggler led Texas authorities on a high-speed chase on Tuesday along the border, hitting speed of more than 100 mph.
Texas has also been sending migrants to 'sanctuary' cities, including most recently Los Angeles, in what Gov. Greg Abbott says is an effort to relieve pressure on the border state from a crisis he blames on the Biden administration.
This post appeared first on FOX NEWS