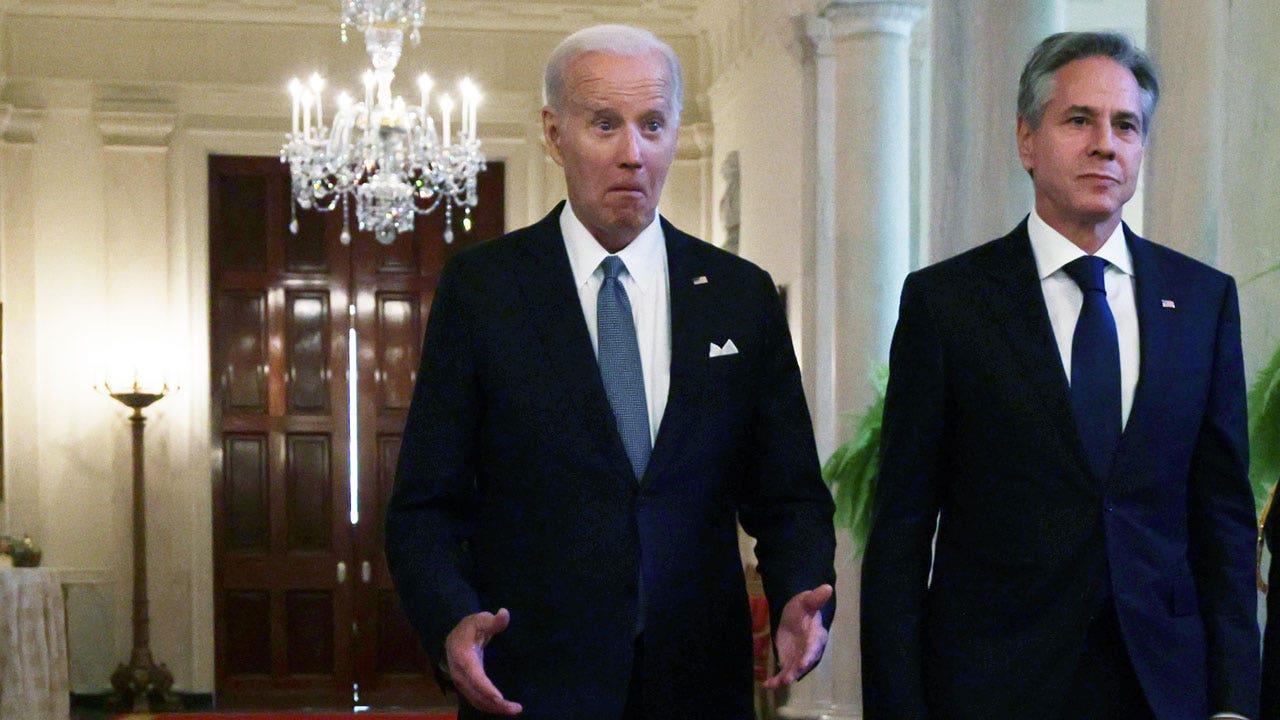 Secretary of State Antony Blinken caused a stir on social media Monday for his comments on whether the U.S. supports 'Taiwan independence' from China.
'We do not support Taiwan independence,' Blinken said in a press conference following a meeting with Chinese President Xi Jinping. 'We remain opposed to any unilateral changes to the status quo by either side. We continue to expect the peaceful resolution of cross strait differences. We remain committed to continuing our responsibilities under the Taiwan Relations Act including making sure Taiwan has the ability to defend itself.'
Morgan Ortagus, a former State Department spokeswoman during the Trump Administration, sounded off on the Biden administration in a statement to Fox News Digital.
'The Biden Administration is acting needy and desperate,' Ortagus said 'They want to talk more than China does, and China knows it. So they are making us grovel. It's embarrassing.'
Blinken reiterated the United States' support of the 'One China' policy, causing backlash on Twitter.
'Weakness invites aggression,' tweeted Rep. Jim Banks, R-Ind., who serves on House Select Committee on the Strategic Competition between the U.S. and the Chinese Communist Party.
Collin Rugg, co-owner of Trending Politics, noted the contrast between Biden's previous stance on Taiwan, in which he said the U.S. would defend Taiwan in case of an 'unprecedented' Chinese invasion.
'What a pivot from Biden's previous comments from just months ago,' Rugg tweeted. 'What happened?'
Ari Hoffman of the Post Millennial said Blinken's statements raise questions about the president's relationship with China.
'If you want to know how deep Biden is in with China, here is your answer,' he tweeted.
'The worst foreign policy team ever,' Fox News contributor Sara Carter said.
Senior fellow at the American Foreign Policy Council Michael Sobolik said Blinken is wrong to act like the U.S.-China relationship compares to the U.S. justice system.
'Appeals to universal rationality are wasted efforts,' he said. 'The only thing the CCP respects is power.'
'Bought and paid for,' said Stephen Miller, contributing editor at Spectator World.
'We have no illusions about the challenges of this relationship. There are many issues on which we profoundly and even vehemently disagree,' Blinken added. 'The United States has a long history of successfully managing complicated relationships through diplomacy.'
Blinken's comment comes amid increased tensions between China and the United States related to Taiwan. Last week, Taiwan's air force scrambled fighter jets after a group of 10 Chinese aircraft crossed the median line of the Taiwan Strait for the second time in a matter of days.
This month, the U.S. military released video of a close encounter between a Chinese navy ship and an American destroyer in the Taiwan Strait, and there have been several close calls between Chinese and U.S. military aircraft recently, including an air intercept by a Chinese fighter jet over the South China Sea in late May.
China considers self-ruling Taiwan its own territory and has raised the prospect of annexing it by force. The U.S. maintains informal relations and defense ties with Taiwan even as it recognizes Beijing as the government of China.
The State Department did not immediately respond to Fox News Digital's request for comment.
Fox News Digital's Andrew Mark Miller contributed to this report.
This post appeared first on FOX NEWS