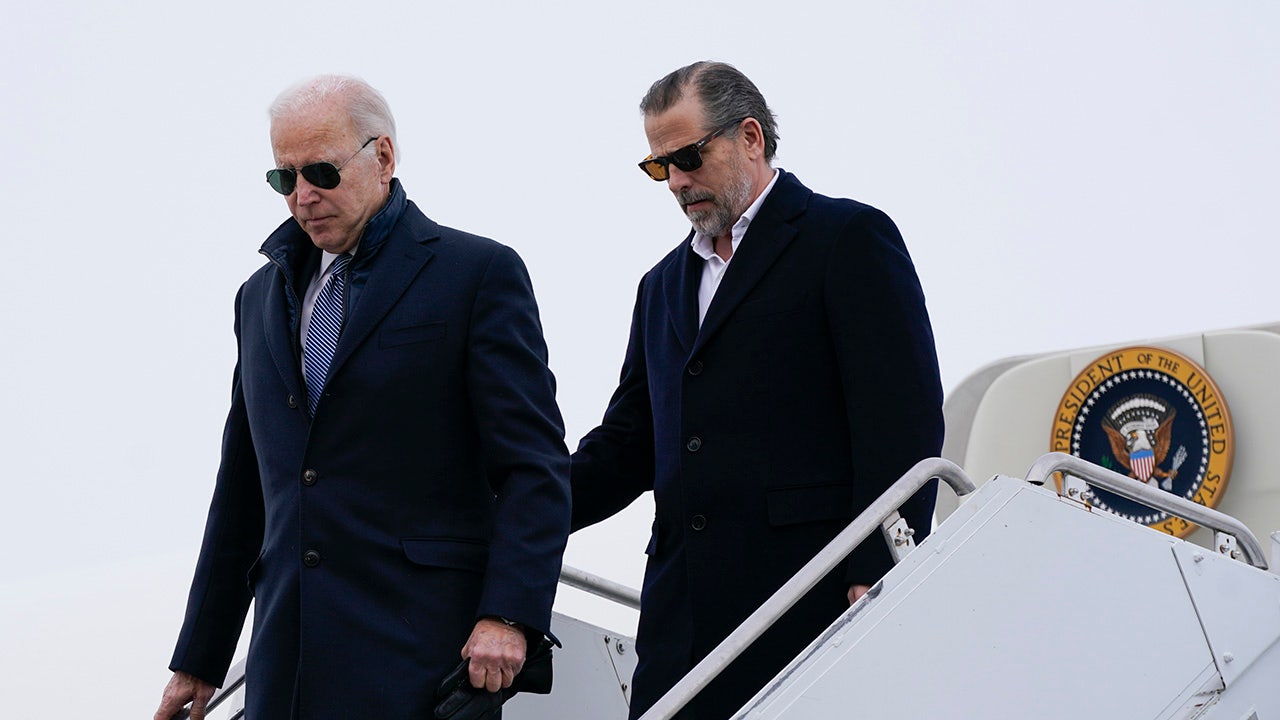 The White House received backlash Saturday after it was reported that Hunter Biden was accompanying his father to Camp David amid bombshell whistleblower allegations of political corruption – along with recently pleading guilty to federal tax charges and agreeing to plea deal on a felony gun charge.
The House Ways and Means Committee revealed Thursday its interview with an IRS whistleblower last month who shared a WhatsApp message from 2017 in which Hunter Biden allegedly told a Chinese business associate that he and his father would ensure 'you will regret not following my direction.'
'I am sitting here with my father, and we would like to understand why the commitment made has not been fulfilled,' Hunter Biden told Henry Zhao, the director of Chinese asset management firm Harvest Fund Management, in the message provided by IRS whistleblower Gary Shapley. 'And, Z, if I get a call or text from anyone involved in this other than you, Zhang or the chairman, I will make certain that between the man sitting next to me and every person he knows and my ability to forever hold a grudge that you will regret not following my direction.'
Conservatives noted on Twitter the close timing of the revelations and the father and son's travel together to Camp David.
'This week, federal government whistleblowers allege massive DOJ/FBI corrupt obstruction to protect Hunter and Biden family,' tweeted Tom Fitton, president of Judicial Watch. 'And Biden regime sweetheart plea deal with Hunter is announced. Joe Biden's response? Bring Hunter to WH for a State Dinner and then off to Camp David for the weekend with him.'
'COLLUSION: Hunter and Joe Biden retreated to Camp David with their lawyers for the weekend,' tweeted @amuse, a prominent Substack writer. 'Will Biden throw his son overboard to save his presidency?'
'Lots of business to discuss?' GOP communicator Steve Guest tweeted.
'Amazing. Taking a tax cheat and gun felon with him on a trip where he will be discussing high level international events,' Washington Free Beacon reporter Chuck Ross tweeted. 'But also, does Hunter live with Joe now or something?'
'Strange to go to Camp David for such a short time,' New York Post columnist Miranda Devine tweeted. 'Maybe to have confidential discussions with unknown legal advisers in a heavily guarded place away from prying eyes.'
President Biden has consistently said that he never talks to his son about foreign business deals, despite piling evidence that he has met more than a dozen of Hunter Biden's business associates.
The whistleblower testimony was revealed two days after Hunter Biden entered an agreement with his father's Justice Department to plead guilty to two misdemeanor counts of failing to pay federal income taxes on at least $3 million he earned through foreign business deals. He also agreed to enter into a pretrial diversion agreement with regard to a separate charge of possession of a firearm by a person who is an unlawful user of or addicted to a controlled substance.
'True to form, Biden leaves the White House for his weekend at Camp David, despite unrest in Russia,' journalist Charlie Spiering tweeted. 'Hunter Biden also spotted boarding with him on Marine One.'
In addition to accompanying his father to Camp David, he was also listed as a guest at the White House state dinner Thursday night for Indian Prime Minister Narendra Modi and his wife. Footage showed Hunter Biden rubbing elbows with prominent guests.
When White House press secretary Karine Jean-Pierre was pressed Friday about Hunter being a guest, she said, 'I'm just not going to get into family discussion, personal family discussion.'
'As you know, Hunter's his son,' she added. 'I'm just not going to get into that.'
The White House did not respond to a request for comment.
This post appeared first on FOX NEWS