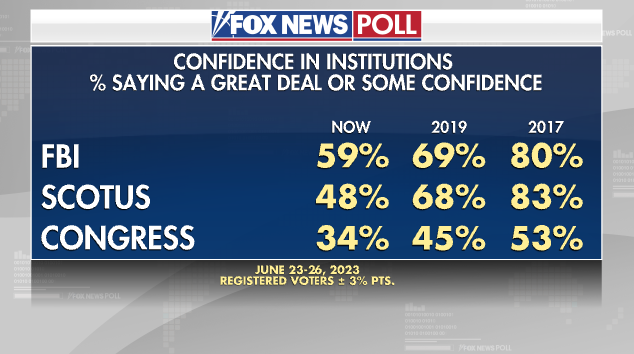 Confidence in U.S. institutions such as the FBI, Supreme Court and Congress has been on a steady decline since 2017 and is now reaching record lows. More broadly, less than a third of voters trust the federal government – a 20-year low.
That's according to the latest Fox News Poll of registered voters released Wednesday.
Six years ago, record numbers had faith in the FBI (80%) and the high court (83%), and over half trusted Congress (53%). Since then, confidence is not only on the decline, but has reached new lows: the FBI is down to 59%, the Supreme Court 48%, and Congress 34%.
For the FBI, the drop comes from Republicans (down 48 points since 2017) and independents (-18). Among Democrats, confidence is up 3 points.
It's the same for declining faith in Congress, which is down 32 points among Republicans and 28 among independents since 2017. Democrats are down only 3 points.
The Supreme Court has taken the biggest hit, falling below 50% for the first time since the question was originally asked in 2014, when 69% were confident. This erosion is across the political spectrum, with the Supreme Court down 48 points among Democrats, 21 among Republicans, and 37 among independents, since 2017.
'Confidence in major institutions has been diminishing for a decade or more, but the loss of confidence in the Supreme Court is striking,' says Democratic Pollster Chris Anderson who conducts the Fox News Poll with Republican Daron Shaw. 'With less than half of Americans confident in the court, and Democrats half as likely as Republicans to feel so, there is a clear perception the country lacks a non-political arbitrator of the laws of the land.'
For the first time the poll asks about confidence in the Department of Justice and finds views split: 51% have confidence, while 49% do not.
Most Democrats (73%) have confidence in the DOJ, while majorities of Republicans (67%) and independents (60%) don't.
Voter reactions are mixed when it comes to former President Trump and President Biden's handling of classified materials, along with federal charges against Trump and Biden's son Hunter. Many see politics playing a role in the accusations but suspect wrongdoing as well.
On June 8, Trump was indicted on 37 federal charges including unlawful retention of defense information. More than half of voters (54%) think he put our national security at risk with the way he handled classified documents after his presidency (42% say he didn't).
Fifty-six percent think Trump did something illegal, while 27% think he was careless but did nothing illegal, and 16% feel he did nothing wrong. When it comes to President Biden's handling of classified documents, 37% say he did something illegal, 41% careless but not illegal, and 19% nothing wrong.
Biden's numbers have held relatively steady since January, while more voters now think Trump did something illegal (56% vs. 51% in January). That increase comes from Democrats (+6) and independents (+8).
Meanwhile, Hunter Biden accepted a plea deal on tax and gun charges on June 21 and will formally go before a judge in July to strike an agreement.
Voters are almost 8 times as likely to feel the DOJ treatment of the president's son was not tough enough (55%) than too tough (7%). A third think he was treated fairly (34%). Voters are split on the Justice Department's treatment of Trump: 36% not tough enough, 38% too tough, and 23% fair.
'Voters tend to think public figures are probably guilty of something when claims like these arise,' says Shaw. 'But they are equally suspicious of those doing the investigating.'
For both Biden and Trump, 55% feel the DOJ's actions are motivated by partisan politics, including majorities of Republicans and independents. More than half of Democrats think the DOJ is playing it straight in both instances.
A record high 66% do not trust the federal government, up from 60% in May 2021. When first asked in June 2002, that number was just 36%. However, at that time, America was still rallying around former President George W. Bush in the aftermath of September 11.
Most Republicans (86%) and independents (75%) do not trust Washington, while just over half of Democrats do (54% trust, 43% distrust).
Compared to 2002, distrust has increased by 2 percentage points among Democrats, 38 points among independents, and 57 points among Republicans.
CLICK HERE FOR TOPLINE AND CROSSTABS.
Conducted June 23-26, 2023, under the joint direction of Beacon Research (D) and Shaw & Company Research (R), this Fox News Poll includes interviews with 1,005 registered voters nationwide randomly selected from a voter file who spoke with live interviewers on landlines and cellphones. The total sample has a margin of sampling error of plus or minus 3 percentage points.