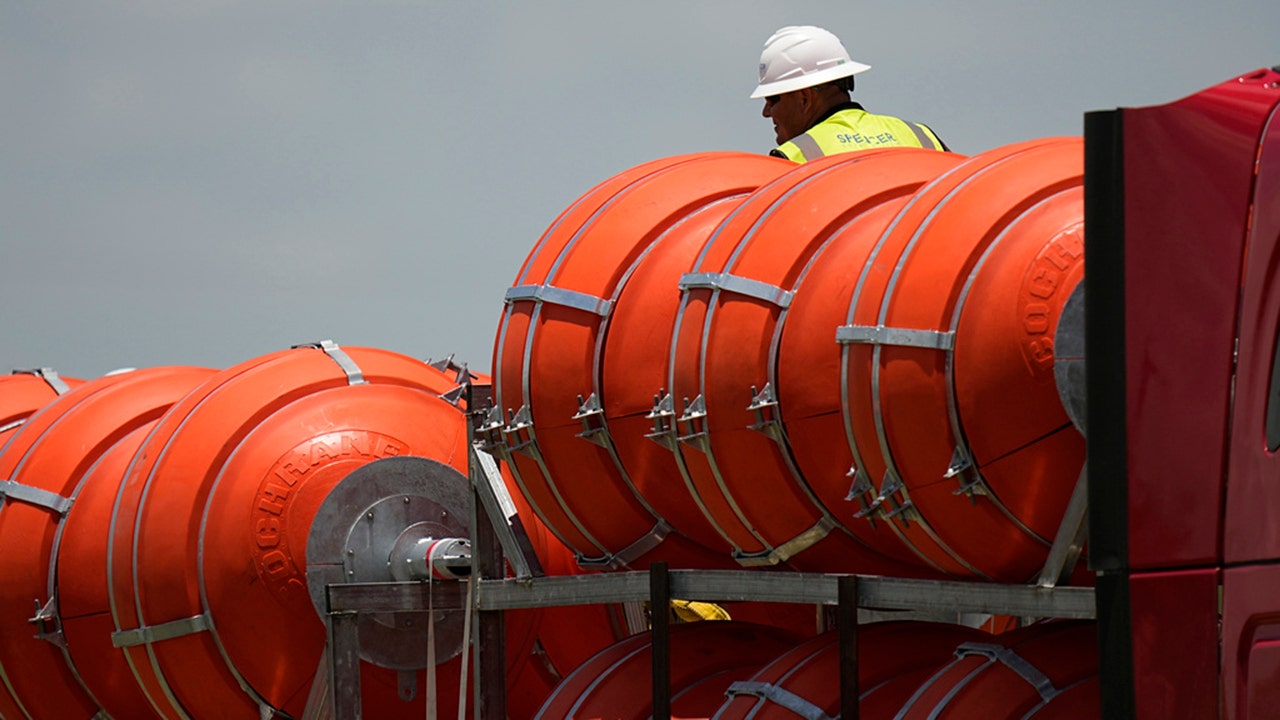 Texas Gov. Greg Abbott on Friday announced that the Lone Star State is installing its 'marine barrier installation' as part of its efforts to stop illegal immigration across the U.S.-Mexico border — a move that has brought criticism from left-wing groups.
'New marine barrier installation on the Rio Grande begins today. Texas DPS is overseeing the project in Eagle Pass. More to come,' the governor tweeted.
Abbott had announced the barrier, consisting of orange buoys and intended to discourage migrants from crossing the Rio Grande, last month. It is part of Operation Lone Star, a multifaceted operation to tackle the border crisis amid what Republicans say is a vacuum of leadership from the federal government.
Abbott has caused controversy with a number of moves, including transporting migrants into the interior to 'sanctuary' jurisdictions like New York City and Washington, D.C., setting up razor wire and building the state's own border wall after the Biden administration stopped federal construction.
Texas officials have said that the latest plan will discourage people from attempting to cross the treacherous river. It is expected to take about two weeks to set up the buoys.
'Anytime they get in that water, it's a risk to the migrants. This is the deterrent from even coming in the water,' Texas Department of Public Safety director Steve McCraw said last month.
The move has seen pushback from left-wing groups. Environmental activists held a demonstration this week near the border, including holding a prayer for the river, according to The Associated Press.
An attorney for the left-wing American Civil Liberties Union in Texas told CNN that the move is 'the latest in a chain of gifts from the state to private contractors to fuel the governor's manufactured crisis at the border.'
'The floating balls will not address the real and important reasons people are coming to the United States. The buoys are a blight on Texas's moral conscience,' David Donatti said.
The Washington Post reported that the barrier will include a layer of webbing beneath it to stop people swimming underneath it, and is expected to span 1,000 feet in the stretch of river near Eagle Pass.
The deployment comes amid a relative lull in border crossings, compared to some of the record highs seen during the crisis, which is now into its third year. The Biden administration has touted a sharp drop in encounters since the end of Title 42 on May 11, when its new strategy went into place.
However, there were still more than 200,000 migrant encounters in May overall. The administration has called on Congress to provide more funding and to pass an immigration reform bill.
But Republicans have balked at the inclusion of an amnesty for millions of illegal immigrants already in the U.S., and have instead said that the Biden administration has incentivized the crisis with its 'catch-and-release' policies.
The Associated Press contributed to this report.
This post appeared first on FOX NEWS