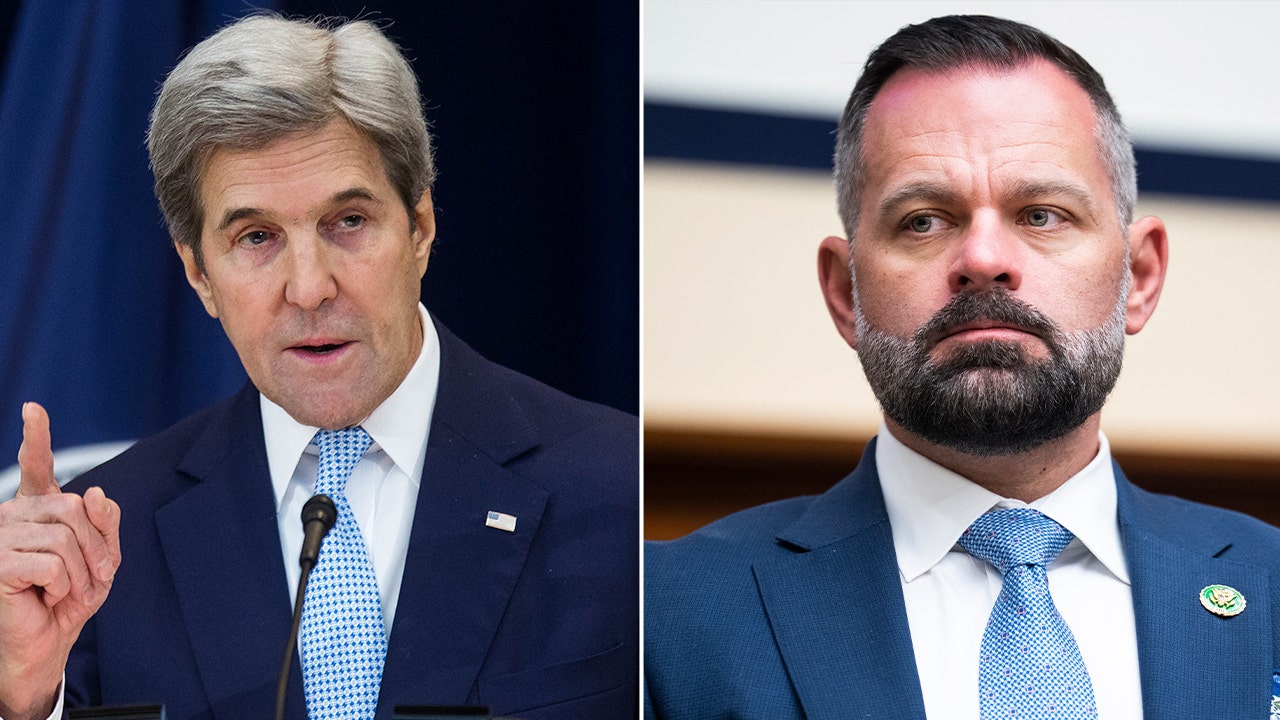 Special Presidential Envoy for Climate John Kerry was heavily criticized after he testified during a congressional hearing that he has never owned a private jet.
During the hearing – hosted Thursday by the House Foreign Affairs Committee – Rep. Cory Mills, R-Fla., confronted Kerry about his past private jet use in light of the top administration official's efforts to fight climate change. Kerry said his purported use of a private jet is 'one of the most outrageously persistent lies that I hear,' adding that he doesn't own a jet and has never 'personally' owned a jet.
'Bottom line is that the climate czar is showing a climate hypocrisy when him and his family left a 325 metric ton carbon footprint from their private jet,' Mills told Fox News Digital after the hearing. 'Meanwhile, Kerry expects the average American to be carbon-neutral and to buy things like unreliable EVs they can't afford.'
'Once again, it's the Democrats' standard of hypocrisy to tell Americans how to live their lives while they do the opposite,' Mills continued.
According to flight tracking data obtained by Fox News Digital in July 2022, a Gulfstream GIV-SP jet owned by Kerry's family made a total of 48 trips that lasted more than 60 hours and emitted an estimated 715,886 pounds, or 325 metric tons, of carbon over the course of the Biden administration's first 18 months.
The plane was registered to Flying Squirrel LLC, a charter company owned by Kerry's wife, Teresa Heinz-Kerry, and in which Kerry reported owning a more than $1 million stake on past financial disclosures.
However, one month after the Fox News Digital report that highlighted the jet's extensive carbon footprint, and after lawmakers blasted Kerry for apparent hypocrisy, the Gulfstream jet was sold to an energy-focused hedge fund in New York City. Whitney Smith, a State Department spokesperson, confirmed the sale in a statement this year and said Kerry travels commercially in his current role.
'Whether it was his jet or his wife's jet is missing the forest through the trees. John Kerry is an unelected bureaucrat who's making decisions that have major impacts on the lives of Americans, the overwhelming majority of whom are going to be more worried about the cost of gas to drive their cars to work, not the cost of fuel to fly a jet to King Charles' coronation,' Rep. Brian Mast, R-Fla., told Fox News Digital.
'He needs to understand that,' added Mast, who chairs the Foreign Affairs Subcommittee on Oversight and Accountability.
In addition, later in the hearing Thursday, Rep. Mike Waltz, R-Fla., confronted Kerry about his comments that he has never personally owned a private jet. Waltz pointed to the Fox News Digital report that shows Kerry's family had sold the jet after receiving criticism.
'Here's the issue,' Waltz told Kerry. 'This isn't some kind of partisan gotcha. When we are asking Americans to make serious sacrifices, as we transition, for the common good and your family and/or yourself are flying around on private jets, that smacks of hypocrisy. It actually hurts your cause.'
'John Kerry is preaching climate change while he & his family fly on private jets,' Waltz added in a tweet later in the day. 'That smacks of hypocrisy as he's asking everyday Americans to make sacrifices.'
And Rep. Andy Biggs, R-Ariz., also criticized Kerry.
'He doesn't own one but he sure does use one!' Biggs tweeted.
Kerry's office didn't respond to a request for comment.
This post appeared first on FOX NEWS