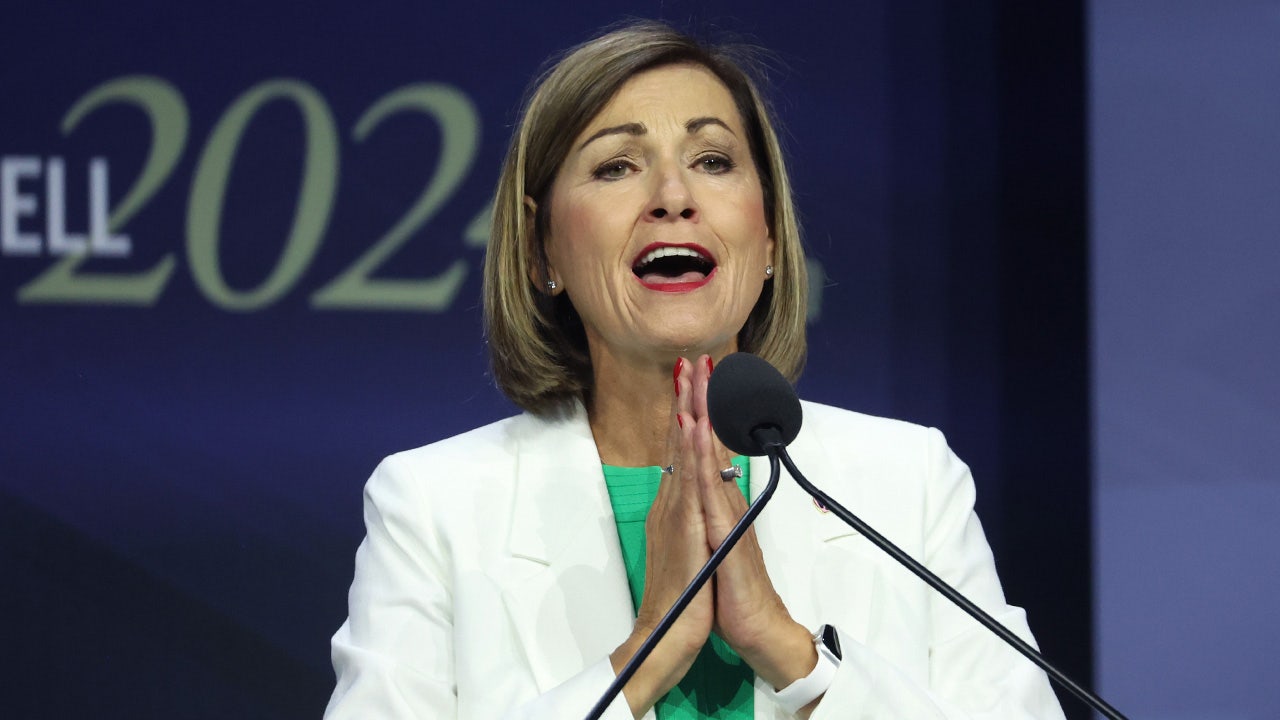 Iowa Republican Gov. Kim Reynolds signed a bill into law Friday that bans most abortions in the state as early as six weeks into pregnancy. A judge in Iowa is expected to rule whether the controversial law can be enforced Monday.
'The most glaring injustice of all is about to be put right,' Reynolds told a crowd at the Family Leadership Summit, a gathering of evangelical Christians that featured remarks from many Republican presidential hopefuls, on Friday just before signing the law. 'Everyone understands that a heartbeat signifies life, and we understand that when it falls silent, something precious has been lost.'
Iowa's legislatures passed the abortion ban after the popular GOP governor called legislators back for a special session after the state Supreme Court declined to reinstate a 2018 ban after about six weeks of pregnancy.
'Iowa's 2018 heartbeat law was not hypothetical,' Reynolds said. 'It was not an empty gesture, and it was not a mistake. It was an ironclad commitment to the smallest and most vulnerable among us.'
The law bans abortion once cardiac activity can be detected, which is usually around six weeks of pregnancy, before many women know they are pregnant. Medical experts say the cardiac activity is not an actual heartbeat but rather an initial flutter of electric movement within cells in an embryo.
It includes exceptions for miscarriages, when the life of the pregnant woman is threatened and fetal abnormalities that would result in the infant's death. The also includes exception for rape within 45 days and incest reported within 140.
The American Civil Liberties Union of Iowa, Planned Parenthood of the Heartland, the Emma Goldman Clinic and Dr. Sarah Traxler filed a lawsuit against the law Wednesday, before it was signed.
'Today, Iowans have been denied the freedom to decide what is best for their own lives and futures,' Alexis McGill Johnson, president and CEO of Planned Parenthood Federation of America said in a press release Wednesday. 'Inevitably, the brunt of harm will fall on Black, Latino, and Indigenous Iowans; Iowans with lower incomes; and Iowans who live in rural areas. Planned Parenthood will not stand for this. We will see Gov. Reynolds in court.'
The plaintiffs seek a temporary injunction, which would block the new restrictions from being enforced until a court decides otherwise.
The lawsuit seeks to prove that banning abortion would 'irreparably harm' Iowans if it were enacted and enforced.
Reynold's called the impending lawsuit 'against the will of the people.'
'As we gather here today, at this very moment, the abortion industry is in the court trying to prevent this law from taking effect and stop once again the will of the people,' Reynolds said.
A Polk County district court judge heard arguments Friday about whether the law should be temporarily blocked. The judge has said he will issue a ruling by Monday.
Fox News' Bill Mears contributed to this report.
This post appeared first on FOX NEWS