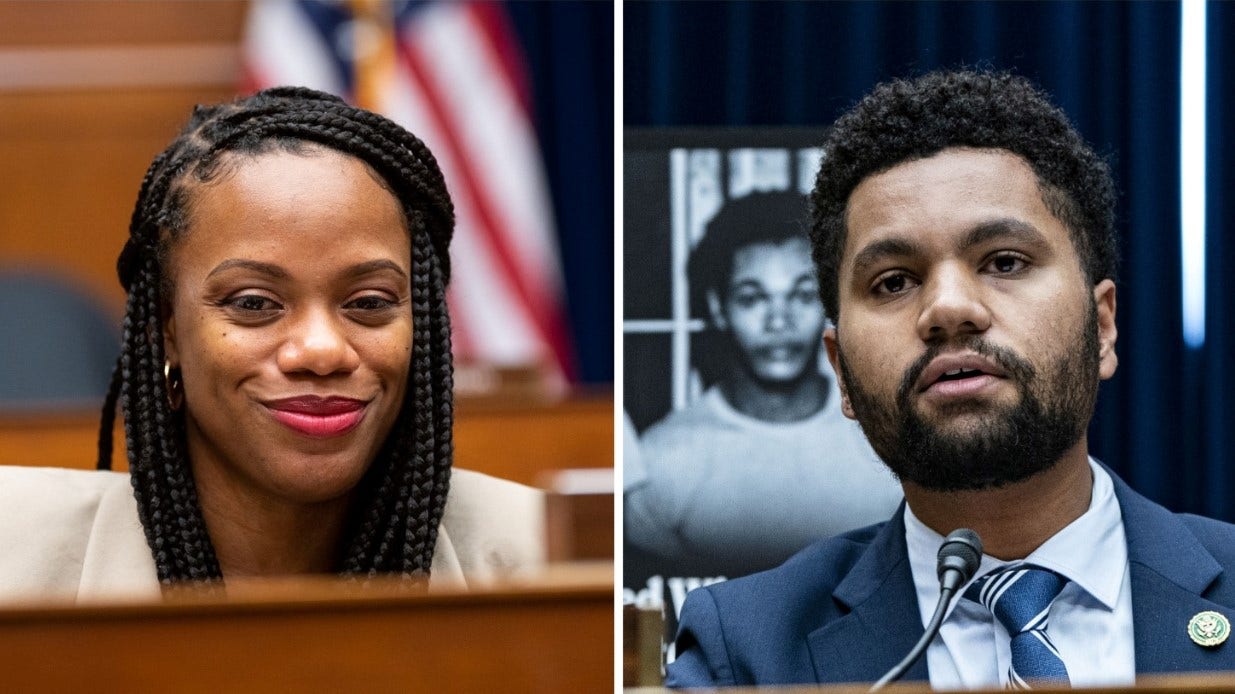 Two House Democrats slammed Republicans on Wednesday for saying the failure to aggressively prosecute Hunter Biden is a sign of a 'two-tier justice system,' and said the GOP is stealing that term from the civil rights movement.
The House Oversight and Accountability Committee met Wednesday to hear from two IRS whistleblowers, furthering the GOP goal of highlighting how President Biden's son was allowed to avoid serious penalties despite evidence of a scheme to cash in on the Biden name.
Democrats used the hearing to focus on the prosecution of former President Donald Trump, but two Democrats went further by saying Republicans shouldn't be allowed to use the term 'two-tier justice system' in reference to the Bidens.
'They're using you and using your story and using your work to make this argument for themselves,' Rep. Maxwell Frost, D-Fla., told the two whistleblowers.
'Since January 6th, these Republicans and Trump have complained about a two-tier justice system, co-opting the language of the decades-long civil rights movement for Black lives and Black freedom,' he said.
'There is a two-tier justice system, but it's not about Democrats versus Republican,' Frost continued. 'This language, two-tier justice system, has a real history. It has a real history of Emmitt Till. It has a real history with Breonna Taylor. It has a real history with George Floyd, the Central Park Five.'
He said the two-tier justice system is about 'Black, brown and poor people versus everyone else, and I won't accept when Republican politicians look to appropriate the language of the movement for Black lives and civil rights to fit a political agenda to defend Donald Trump.'
Rep. Summer Lee, D-Pa., agreed with Frost later in the hearing when it was her time to speak, and said Black and brown people in America are 'overcriminalized and over-incarcerated.'
She blasted House Republicans and Trump for using the term 'two-tier justice system.'
'I'd like to address the way my Republican colleagues are attempting to co-opt the phrase 'two-tier justice system' to make it sound like Trump and his cronies are somehow the victims here when the reality is that the term two-tier system of justice is meant to refer to the very real system that exists in the United States and which affects Black and brown folks, not powerful former presidents and their political allies,' she said.
Lee cited statistics showing that Black and Native American men face higher incarceration rates than White men and said the GOP shouldn't be allowed to confuse the issue by using the term.
'Republican efforts to use the term two-tier justice is to distract from those who are truly the victims of a disparate treatment in our criminal justice system, and whether we say it out loud or not, we all know who those people are,' she said.
This post appeared first on FOX NEWS