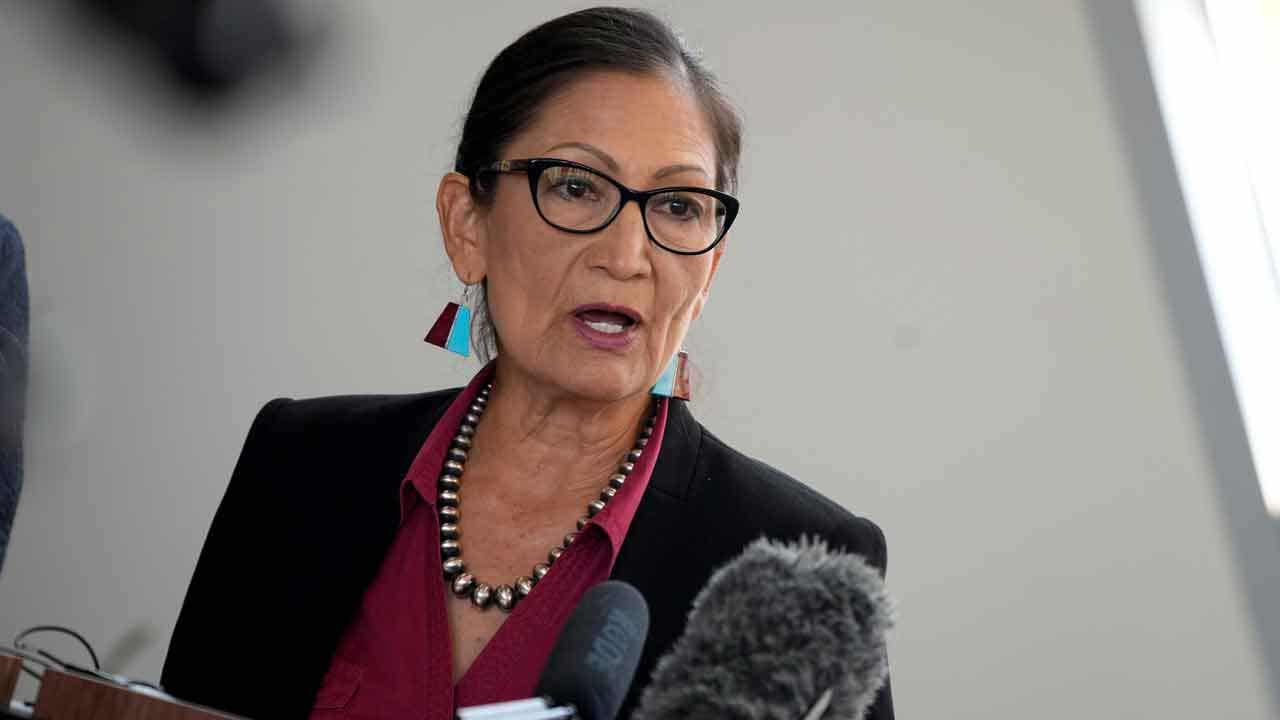 The Biden administration proposed new rules that would make oil and gas leasing on public lands more costly for developers, but which it said would 'ensure fair return to taxpayers.'
The proposed rules, unveiled Thursday by the Department of the Interior (DOI) and Bureau of Land Management (BLM), revise a number of financial requirements for onshore fossil fuel leasing including bonding requirements, royalty rates and minimum bids. The administration explained the changes would increase taxpayer returns, while disincentivizing speculators or 'less responsible actors.'
'The Interior Department has taken several steps over the last two years to ensure the federal oil and gas program provides a fair return to taxpayers, adequately accounts for environmental harms, and discourages speculation by oil and gas companies,' said DOI Principal Deputy Assistant Secretary for Land and Minerals Management Laura Daniel-Davis. 'This new proposed rule will help fully codify those goals and lead to more responsible leasing and development processes.'
'This proposal to update BLM's oil and gas program aims to ensure fairness to the taxpayer and balanced, responsible development as we continue to transition to a clean energy economy,' added BLM Director Tracy Stone-Manning. 'It includes common sense and needed fiscal revisions to BLM's program, many directed by Congress.'
Under the proposal, the lease bond oil and gas developers are required to pay will be hiked from $10,000 to $150,000 and statewide from $25,000 to $500,000, the DOI said. The DOI said the current bonding requirements, established in 1960, are outdated and don't cover potential federal costs to reclaim a well if companies don't meet reclamation requirements.
In addition, minimum royalty rates developers must pay on their leases will be increased to 16.67% from 12.5%. And the national minimum bid for a lease will be bumped up from $2 per acre to $10 per acre and will rise with inflation after 10 years.
The proposal also includes an annual rental fee of $3 per acre for the first two years, $5 per acre for the following 6 years and $15 per acre for every following year. Finally, the rules would codify a new fee of $5 per acre for expressions of interest.
While environmental groups and Democratic lawmakers were quick to applaud the announcement Thursday, Republicans and fossil fuel industry groups blasted it for introducing new barriers to domestic oil and gas production.
'Responsible development of federal lands is critical for meeting the growing demand for affordable, reliable energy while reducing emissions,' Holly Hopkins, the vice president of upstream policy at the American Petroleum Institute, said in a statement.
'Amidst a global energy crisis, this action from the Department of the Interior is yet another attempt to add even more barriers to future energy production, increases uncertainty for producers and may further discourage oil and natural gas investment,' Hopkins continued. 'This is a concerning approach from an administration that has repeatedly acted to restrict essential energy development.'
Senate Energy and Natural Resources Committee Ranking Member John Barrasso, R-Wyo., added the Biden administration will put Wyoming oil and gas workers on the unemployment line 'with the stroke of a pen.'
'The president has vowed to end drilling on federal lands. This rule confirms it's a vow he intends to keep,' he said. 'Last year, the onshore oil and gas leasing program returned more than $43 to American taxpayers for every dollar spent. This destructive and punitive rule will end up costing the taxpayers far more than it helps them.'
This post appeared first on FOX NEWS