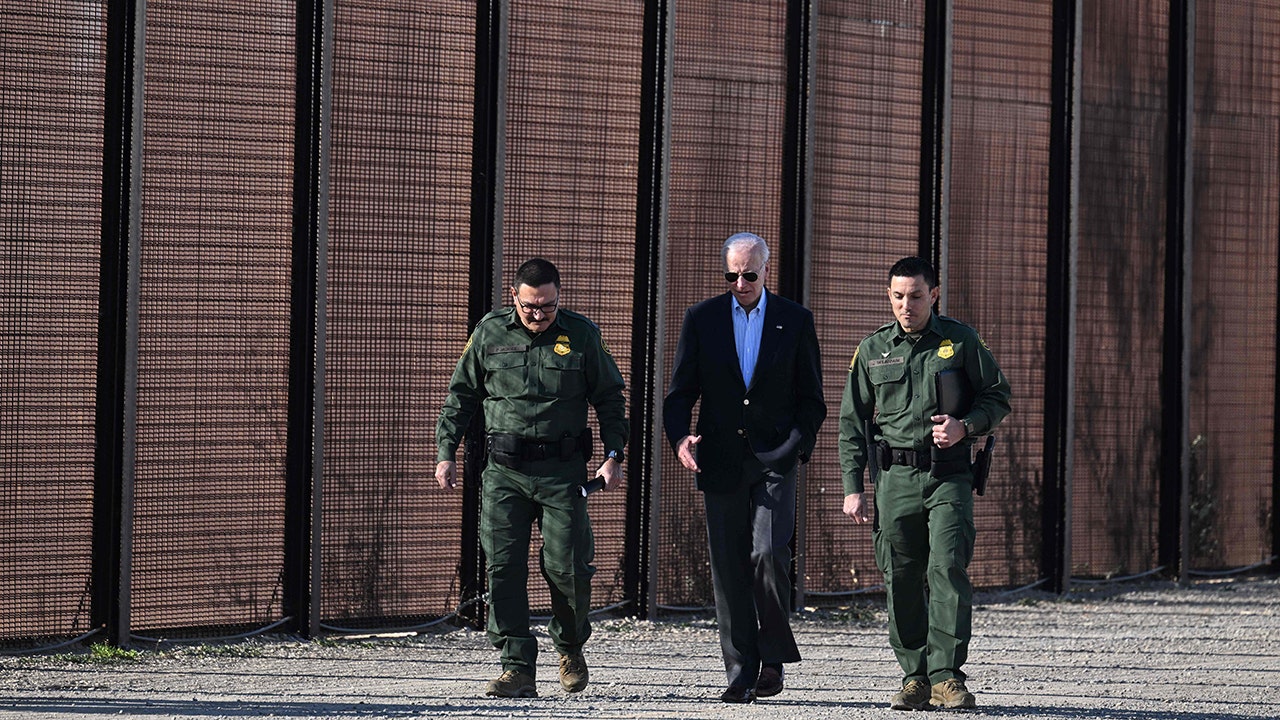 The White House on Friday announced that it has agreed to accept Cuban, Nicaraguan, Haitian and Venezuelan nationals who are living in Mexico as refugee resettlement referrals, the latest in the administration's strategy of allowing more migrants in through more legal 'pathways' to reduce chaos at the southern border.
White House national security adviser Jake Sullivan announced that after a meeting between Mexican President Andrés Manuel López Obrador and a U.S. delegation, the U.S. has committed to expanding 'access to safe, orderly, legal migration pathways'
Mexico will be establishing an 'international multipurpose space' to offer 'new refugee and labor options for the most vulnerable people who are currently in Mexico.'
'We also commit to accept refugee resettlement referrals from qualified individuals from Cuba, Haiti, Nicaragua, and Venezuela who are already in Mexico,' Sullivan said.
Those in refugee resettlement are put on a path to permanent residency and eventual U.S. citizenship. The Biden administration has dramatically increased the refugee cap to 125,000 — significantly higher than the 18,000 in the final fiscal year of the Trump administration.
It marks the latest move to provide additional pathways for migrants to get into the U.S. beyond the regular visa system. The administration announced in January a humanitarian parole program that allows up to 30,000 migrants from those four countries to fly directly into the U.S.
Separately, the U.S. is allowing up to 1,450 migrants each day into the U.S. via parole if they have set up an appointment at a port of entry at the southern border using the CBP One app.
Republicans have strongly criticized the expansion, accusing the administration of abusing parole — which Congress has determined should be used on a 'case-by-case' basis for urgent humanitarian reasons and significant public benefit — to allow otherwise-illegal migrants into the U.S.
Rep. Matt Gaetz, R-Fla., told Homeland Security Secretary Alejandro Mayorkas at a House hearing this week that the app was a 'Disney Fast Pass' into the country and accused him of digitizing illegal immigration.
'You've taken this app, and you've digitized illegal immigration. And you've scaled it to the moon,' Gaetz said. 'This app that you've got everybody downloading is like the Disney Fast Pass into the country, never to be subject to actual removal, just 'removal proceedings,' as you call them.'
'We have used our parole authority consistent with the law and consistent with past practices of different administrations,' Mayorkas said.
Mayorkas also used the hearing to say the strategy is working, pointing to a sharp drop in migrant numbers in June.
'Our approach to managing the borders securely and humanely even within our fundamentally broken immigration system is working,' he said. 'Unlawful entries between ports of entry along the southwest border have consistently decreased by more than half compared to the peak before the end of Title 42.'
'Under President Biden's leadership, we have led the largest expansion of lawful, safe and orderly pathways for people to seek humanitarian relief under our laws. At the same time, imposing tougher consequences on those who instead resort to the ruthless smuggling organizations that prey on the most vulnerable,' he added.
Sullivan, in his statement on Friday, noted that the administration 'has significantly expanded legal pathways to the United States' and that it is part of the administration's border control strategy — which combines what it says are tougher consequences at the border than before the end of Title 42 in May.
'We encourage migrants to use these legal pathways instead of putting their lives in the hands of dangerous smugglers and traffickers. Pursuant to our laws, those seeking to enter the United States unlawfully will continue to face strong consequences, including removal, possible criminal prosecution, and a bar on reentry,' he said.
The administration's stick in the carrot-and-stick approach comes in the form of renewed Title 8 authorities — including the use of expedited removal — and an asylum rule that bars migrants from claiming asylum if they entered illegally and failed to claim asylum in a prior country.
However, that rule was blocked this week by a federal judge in response to a lawsuit from left-wing activist groups. The administration has been given two weeks to appeal before the bar goes into effect.
This post appeared first on FOX NEWS