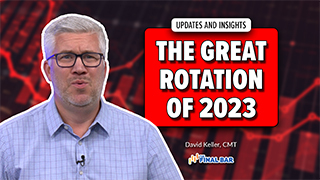 In this episode of StockCharts TV's The Final Bar, Dave wraps the week, reflecting on both stocks and bonds moving lower as the latest inflation data provides mixed evidence. He opens The Final Bar Mailbag to answer questions on Fibonacci Retracements, moving average support, and how institutions trade large positions.
This video originally premiered on August 10, 2023. Watch on our dedicated Final Bar page on StockCharts TV, or click this link to watch on YouTube.
New episodes of The Final Bar premiere every weekday afternoon. You can view all previously recorded episodes at this link.