SPX Monitoring Purposes: Long SPX 8/9/23 at 4467.71.
Long SPX on 2/6/23 at 4110.98: Sold 6/16/23 at 4409.59 = gain of 7.26%. Gain since 12/20/22=17.68%.
Monitoring Purposes GOLD: Long GDX on 10/9/20 at 40.78.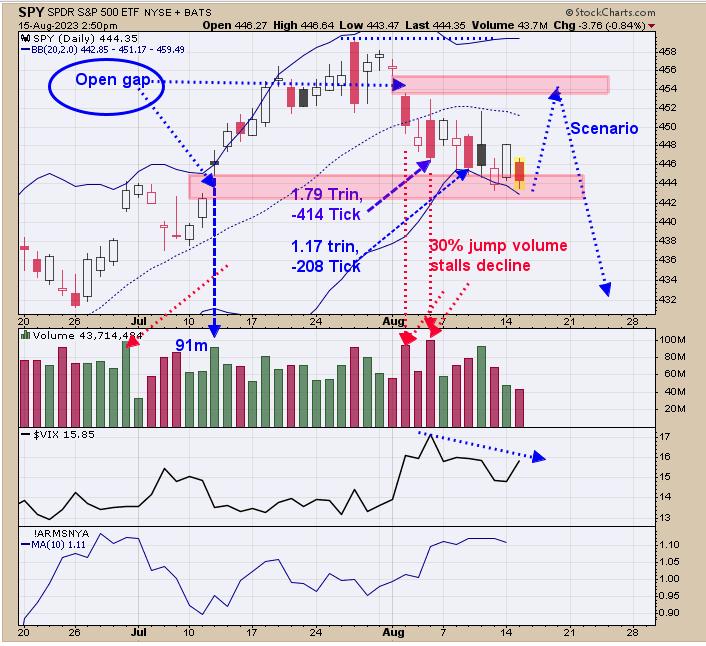 SPY has two open gaps, one near 444 (formed on 7/12) and one near 454 (formed on 8/2, shaded in light pink). SPY is testing the 444 gap on relative light volume, suggesting support. Last Friday's (8/4) close produced a 1.79 TRIN and -414 TICK, which is a bullish combination that suggests a low in the market is near. On August 9, the TRIN closed at 1.17 and TICK at -208, and today the TRIN closed at 1.25, TICKs at -294, which are an additional bullish combination and add to the bullish setup. The second window up from the bottom is the VIX, which usually trades opposite of the SPY. Over the last week, both SPY and the VIX moved lower, which is a bullish divergence short-term. Could see a "back and forth" for a couple of days before the 454 SPY gap level may be tested. Options expiration week is this week, which has a bullish bias. Long SPX on 8/9/23 at 4467.71.
I'm on TFNN.com Tuesday 2:30 Eastern; Thursday 2:20 Eastern, Tune in.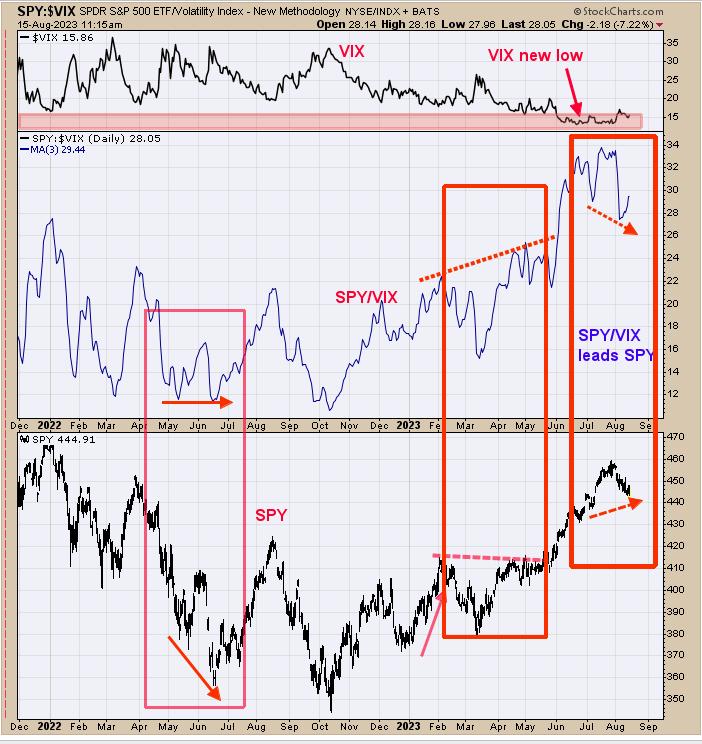 The bottom window is the SPY and the next higher window is the 3-day average of the SPY/VIX ratio. We boxed in the times where a divergence was present. Currently, we have the SPY making higher lows, then early July and the SPY/VIX ratio making a lower low; this suggests that, if SPY does bounce (we think it will), lower lows in SPY are possible in the coming weeks. This week is options expiration week, which normally has a bullish bias, and a bounce is possible. However, next week could see the pullback resume because of the negative divergence in the SPY/VIX ratio.
Tim Ord,
Editor
www.ord-oracle.com. Book release "The Secret Science of Price and Volume" by Timothy Ord, buy at www.Amazon.com.
---
Signals are provided as general information only and are not investment recommendations. You are responsible for your own investment decisions. Past performance does not guarantee future performance. Opinions are based on historical research and data believed reliable; there is no guarantee results will be profitable. Not responsible for errors or omissions. I may invest in the vehicles mentioned above.