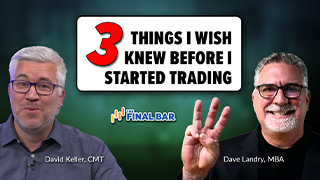 In this episode of StockCharts TV's The Final Bar, Dave Landry of DaveLandry.com shares hard-fought words of wisdom from his trading career, including a healthy mix of market knowledge, mental states, and money management tips. Meanwhile, Dave Keller tracks today's downside rotation as the Nasdaq 100 closes below crucial support at the 50-day moving average.
This video originally premiered on August 15, 2023. Watch on our dedicated Final Bar page on StockCharts TV, or click this link to watch on YouTube.
New episodes of The Final Bar premiere every weekday afternoon. You can view all previously recorded episodes at this link.