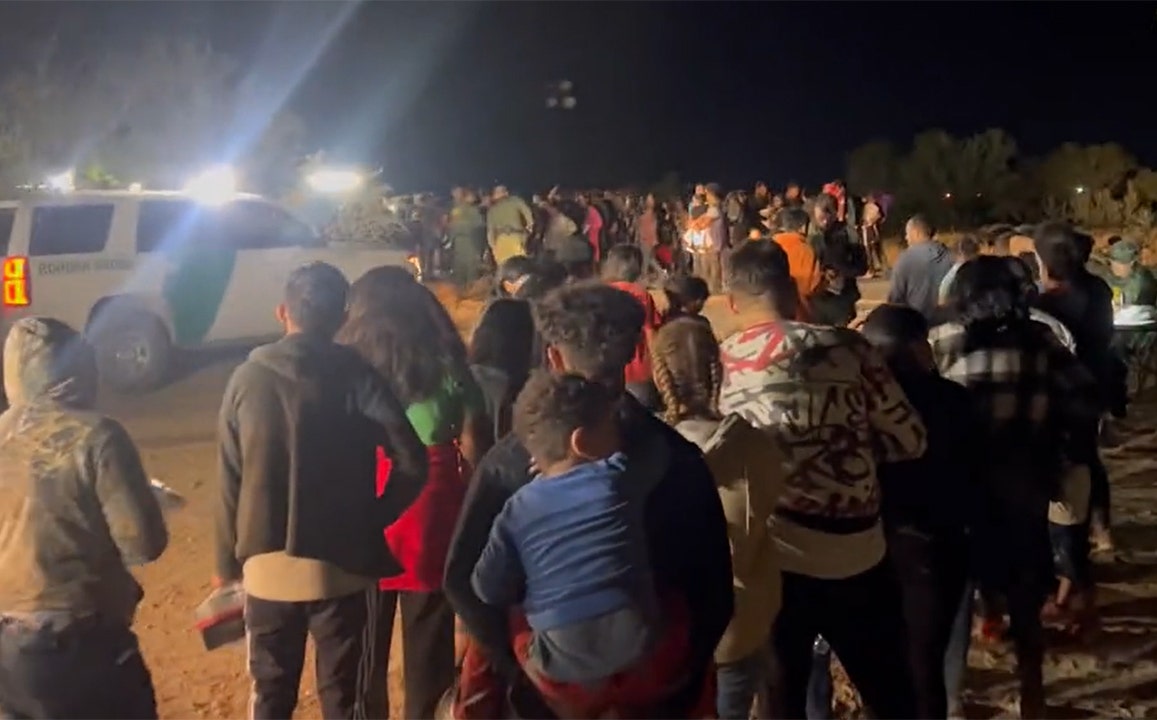 Customs and Border Protection (CBP) on Friday announced that there were 183,503 migrant encounters at the southern border in July — lower than the same period last year but significantly higher than June's lower numbers, which the Biden administration had touted as a sign that its policies were working.
There were 183,503 encounters along the southern border in July, which marks a decrease from the 200,162 encountered last July, but an increase from the 144,566 seen in June.
'We remain vigilant and continue to adjust our operational plans to maximize enforcement efforts against those individuals who do not use lawful pathways or processes, knowing that smugglers continue to use disinformation to prey on vulnerable individuals,' acting CBP Commissioner Troy Miller said in a statement.
Numbers had dropped after the end of Title 42 on May 11, before which Border Patrol agents had been encountering record numbers of up to 10,000 a day. While there had been expectations of a new surge, numbers instead went down from May into June.
The Biden administration tied that drop to a slew of new policies, including expanded programs to parole migrants into the U.S. at ports of entry and elsewhere, efforts to tackle root causes in the Hemisphere, the restoration of punishments for illegal entry and a new asylum rule limiting asylum to some illegal entrants. That rule is currently facing multiple legal challenges, including from left-wing groups who say it limits a right to asylum.
'Our approach to managing the borders securely and humanely even within our fundamentally broken immigration system is working,' Mayorkas said at a House hearing last month. 'Unlawful entries between ports of entry along the southwest border have consistently decreased by more than half compared to the peak before the end of Title 42.'
In July, the number of those entering illegally between ports of entry also increased from 99,545 encounters in June to more than 132,000 in July. Officials noted, however, that the number is still 27% lower than July last year.
The latest release comes after numerous signs that numbers have surged at the border, in both July and August. Fox News reported last week that all four main Border Patrol sectors were either nearing full capacity or are already over capacity. Agents have encountered around 6,000 migrants a day.
Fox has also reported how DHS has put out requests for additional agency volunteers to potentially be deployed to the border, and has also increased the number of ICE special agents at the border.
The administration also included $4 billion for border processing and migration in its $40 billion supplemental budget request.
Republicans have hammered the administration for its handling of the crisis, blaming its rollback of Trump-era border security measures for the ongoing surge in migrants seeking entry to the U.S. Republican 2024 candidates have rallied around a number of stricter policies, including resuming wall construction, restoring the Migrant Protection Protocols and additional efforts to crack down on human smuggling. Recently, some Republicans have called for a freeze in DHS funding until efforts are made to secure the border.
The Biden administration has pushed back against the criticism, claiming that it is working within a 'broken' system that Congress has failed to fix — and has called for both additional funding and a comprehensive immigration-reform bill to be passed.
Fox News' Griff Jenkins and Bill Melugin contributed to this report.
This post appeared first on FOX NEWS