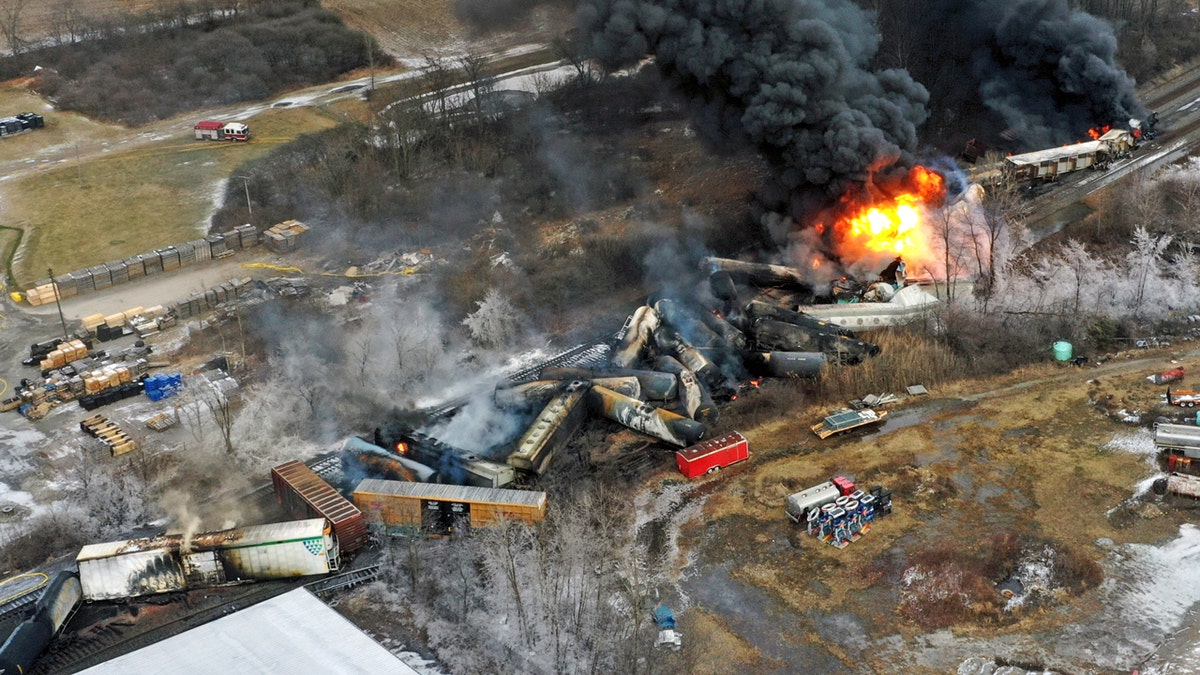 Seven months after a train derailed in eastern Ohio, there are still questions over just how damaging the accident was to the East Palestine community.
Thousands of residents were forced to evacuate their homes after train cars spilled toxic chemicals. Emergency response teams decided to release and burn the materials to prevent the tank cars from exploding.
The clean-up from the event is still ongoing, and some Ohio lawmakers and residents say the effort has taken too long.
'They're frustrated. They're certainly frustrated by the pace of the cleanup,' Sen. J.D. Vance, R-Ohio, said. 'Of course, we're still dealing with the economic devastation… declining home values. Small businesses had to shut down for the next five years. So there's a lot of worry and a lot of frustration. But I think that we've got to keep at it.'
Ohio's state Senate minority leader, Nickie Antonio, a Democrat, says residents she has spoken with are appreciative of the help they have received thus far from Norfolk Southern and government officials, but they hope that assistance stays there for as long as they need it.
'They want to make sure that people are there for the long haul. And we don't know how long that's going to be,' Antonio said.
She visited the site in May and met with residents and those working to clean up the area.
'When you ask the folks on the ground why it's taking so long, they say that they're trying to be as thorough as possible,' Antonio said. 'My hope is that that's true. It's a very big area that they're addressing. And it was a catastrophic event.'
Vance has met with residents in East Palestine several times since the derailment happened in February. Shortly after the event, he posted a video online from Leslie Run Creek showing what appeared to be chemicals in the water.
Since then, sampling and monitoring is still taking place at that location and others. The EPA administrator has also advised the public should avoid those creeks.
'The only thing I know is that the clean-up continues,' Vance said. 'They're taking toxic water out of the creek bed, putting it in these vats. Hopefully over time the creek will get cleaner. But if you talk to residents on the ground, they still are worried that if they go spend too much time in the creek, maybe they'll start to feel some symptoms.'
One of the major concerns for residents has been whether drinking water in East Palestine is safe. The Ohio Environmental Protection Agency says on its website, 'There is no indication of risk to East Palestine Public Water customers.'
However, it cautions that anyone who uses well water should have it tested before drinking it. Some independent testing has recorded possible contaminants in some drinking water.
'I think the inconsistencies with those testing reports lead to people… using a lot of caution,' Antonio said. 'In the long run, I think that testing needs to continue and to a point where conclusive evidence shows that the water is safe. I don't think they have conclusive evidence right now.'
Vance agrees and says while city water testing has been reassuring, a lot of work needs to be done to make sure the well water is safe.
'These chemicals take a while to seep into the water supply. Once they're there, they're there for a long time. We're going to be testing the water in East Palestine for the next six years,' Vance said. 'There are resources out there to get people clean water. They should not be forced to drink dirty water, even if they're just worried about it.'
Norfolk Southern estimates its response to the derailment will cost at least $803 million. That money will be used to remove hazardous chemicals from the area but does not include funds to compensate the community for any long-term health effects. Ohio lawmakers are calling on the federal government to help out. Republican Ohio Gov. Mike DeWine has sent a request to the Biden administration for a disaster declaration, which so far has not been addressed.
'Only the president can do it. It shows complete negligence,' Vance said. 'I think that he sees this community not as a Biden community, and therefore he's not doing anything for it. It is shameful conduct. When you're the president, you serve the people no matter who they voted for. And East Palestine deserves much better from their government.'
Vance and others have also criticized President Biden for not visiting East Palestine.
'There is no chance in hell that if the president of the United States saw this community as a community that supported him, saw it as foundational for his re-election prospects, that he would be ignoring it in the way that he has,' Vance explained. 'I don't see any other explanation other than it is political.'
Antonio disagrees that the president's actions are political, but she does hope he eventually visits the community.
'I have not seen the response be partisan. I have seen the response be about the people of East Palestine and the first responders and the residents. I think too often it's an easy deflection to go right to partisan politics. I don't think that's the case here,' Antonio said. 'I will say that I do hope that the president visits at some point, because I think it would be important for the people of East Palestine and the people in the state of Ohio to see our commander in chief on the ground, to see the work that's been done so far, and perhaps to have that consideration for the emergency declaration. So I hope he does come.'
President Biden said in March that he would visit East Palestine. So far, that has not happened. He said over the weekend he hasn't had the occasion to go and that 'there's a lot going on.'
Former President Trump is the only presidential candidate to visit the East Palestine site.
'We're going to find time to come back if necessary. If they don't come back and give you the treatment that you need, we will be back,' Trump said during his February visit.
He has not yet returned to the area. Both he and President Biden have praised a bipartisan railroad safety bill from Vance and Democratic Sen. Sherrod Brown.
'It would give proper notice to the firefighters who are dealing with these hazardous materials. You get firefighters who are dealing with a chemical fire in East Palestine. They had no idea what was on the train,' Vance said.
One local fire chief in East Palestine said his crew waited 45 minutes before knowing what chemicals were on the train.
'That's got to change,' Vance said. 'The second thing is it would increase the safety inspection requirements so that these string crashes happen less frequently in the first place.'
An average of around three train derailments happened per day in 2022. While most of those were not major events, lawmakers on both sides of the aisle say more needs to be done.
'Providing a higher level of rail safety is absolutely imperative. And that's a bipartisan issue,' Antonio said.
Both Antonio and Vance hope the East Palestine community continues to receive the help it needs.
'You're not forgotten and you're never going to be forgotten by me,' Vance said. 'I can't do my job if we can't hold Norfolk Southern's feet to the fire and we can't get Washington, D.C., to wake up unless we're hearing their stories.'
This post appeared first on FOX NEWS