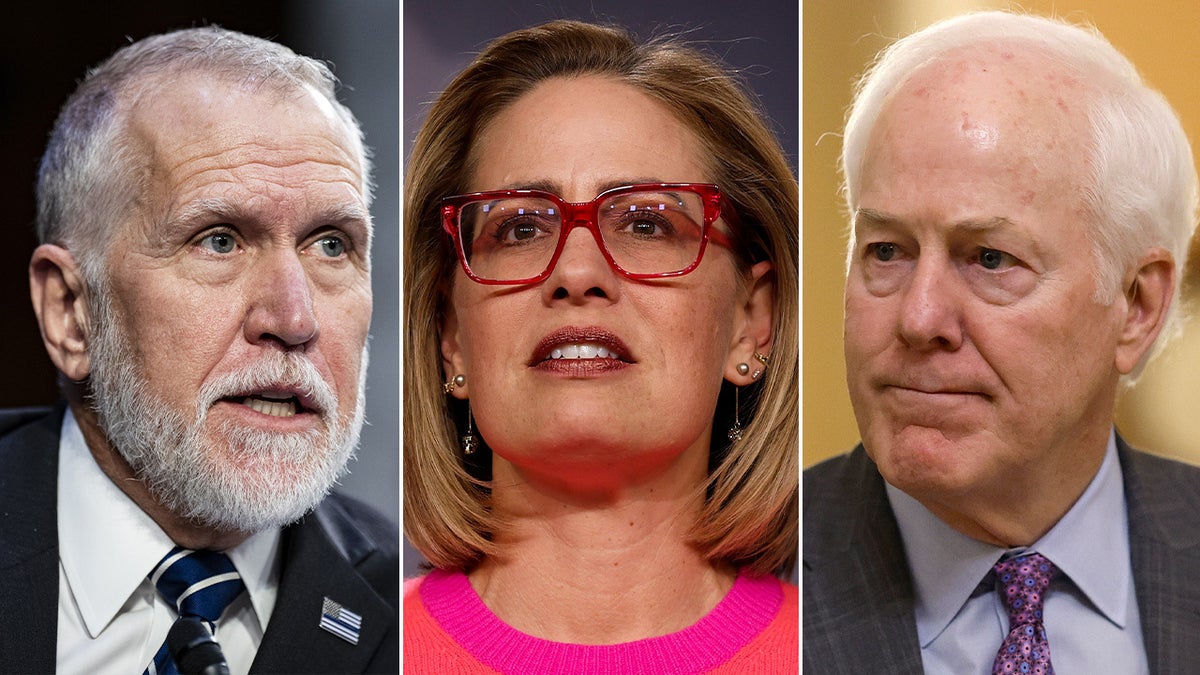 FIRST ON FOX: A bipartisan group of senators introduced legislation late Monday that would allow the Department of Education to fund elementary and secondary school hunting or archery programs.
The lawmakers — Sens. John Cornyn, R-Texas, Thom Tillis, R-N.C., and Kyrsten Sinema, I-Ariz. — introduced the Protecting Hunting Heritage and Education Act in an effort to clarify language in existing law that the Biden administration has interpreted to crack down on extracurricular programs including hunting, archery, other shooting sports and even culinary arts.
'The Bipartisan Safer Communities Act made historic investments in mental health and school hardening while preserving law-abiding Americans' Second Amendment rights, and the Biden administration's misinterpretation of the law is unacceptable,' Cornyn said in a statement to Fox News Digital.
'Educational enrichment programs like hunting and archery are critical to our next generation's development and well-being, and this legislation would ensure they remain available in schools across the nation,' he continued.
Fox News Digital reported in July that the Education Department shared federal guidance to hunting education groups highlighting that hunting and archery programs in schools would be stripped of funding. The guidance explained that the administration interpreted the 2022 Bipartisan Safer Communities Act (BSCA) to mean such programs can no longer receive taxpayer funds.
In the guidance, obtained first by Fox News Digital, senior agency official Sarah Martinez wrote that archery, hunter education and wilderness safety courses use weapons that are 'technically dangerous weapons' and therefore 'may not be funded under' the 1965 Elementary and Secondary Education Act (ESEA), which is the primary source of federal aid for elementary and secondary education across the country.
According to advocates, many schools that offer such courses have already nixed them from curriculums due to the federal guidance.
However, Cornyn, Tillis and Sinema are three of the BSCA's four lead sponsors and have raised the alarm that the Department of Education is misinterpreting their bill. Cornyn and Tillis first raised the issue in a July 10 letter to Education Secretary Miguel Cardona in which they called for the agency to resume funding shooting sports activities.
'School-based archery and hunting safety courses help Arizona students learn and grow while enjoying the outdoors,' Sinema said on Monday. 'We're ensuring the Administration follows the law we wrote so Arizonans can continue to benefit from these educational courses.'
'The Biden Administration's partisan interpretation of BSCA to eliminate hunting education in schools is a slap in the face to millions of Americans, particularly in rural areas, and discourages bipartisan cooperation in Congress,' Tillis added. 'Hunting education programs have wide bipartisan support in Congress, and I encourage my colleagues to quickly pass this legislation to ensure gun-grabbing Biden officials have no room for misinterpretation.'
In addition, Democratic Sens. Jon Tester of Montana, Joe Manchin of West Virginia, and Sherrod Brown of Ohio have joined dozens of Republicans in expressing concern about the Biden administration's actions.
The BSCA — a bill that was criticized as a 'gun control' bill but touted by proponents as an effort to promote 'safer, more inclusive and positive' schools — was passed overwhelmingly by Congress and signed into law by President Biden in June 2022 after mass shootings at a grocery market in Buffalo, New York, and a school in Uvalde, Texas.
The law included an amendment to a subsection in the ESEA listing prohibited uses for federal school funding. That amendment prohibits ESEA funds from helping provide any person with a dangerous weapon or to provide 'training in the use of a dangerous weapon,' but, according to Cornyn, was included to prevent ESEA funding for school resource officer training.
Companion legislation to the bill introduced Monday by Cornyn, Tillis and Sinema was introduced in August by Rep. Mark Green, R-Tenn., and recently passed out of the House Education and Workforce Committee.
'This is a win for our nation's students who choose to participate in shooting sports. Defunding shooting sports in schools would be a disservice to students,' Green said last week.
Cornyn, joined by six Republicans and 11 Democrats, also sent a letter to leaders on key appropriations committees earlier this month, calling on them to include language in the upcoming FY24 Labor, Health and Human Services, Education and Related Agencies Appropriations Bill to reject the Education Department's interpretation of BSCA.
That letter was signed by Tillis, Sinema and Sen. Chris Murphy, D-Conn., the other BSCA sponsor.
This post appeared first on FOX NEWS